Marrakech Palace:

sparking emotions, creating experiences
The Royal Mansour Marrakech can be counted among the few establishments in the world that define hotel excellence. Just a few steps away from Jemaa El Fna square, beats the heart of the Marrakech palace, offering travelers the unique concept of a medina within a medina. Each area has been designed to intuitively take guests on a sensory journey. Take a step into the secret and sumptuous history of one of the most beautiful hotels in the world.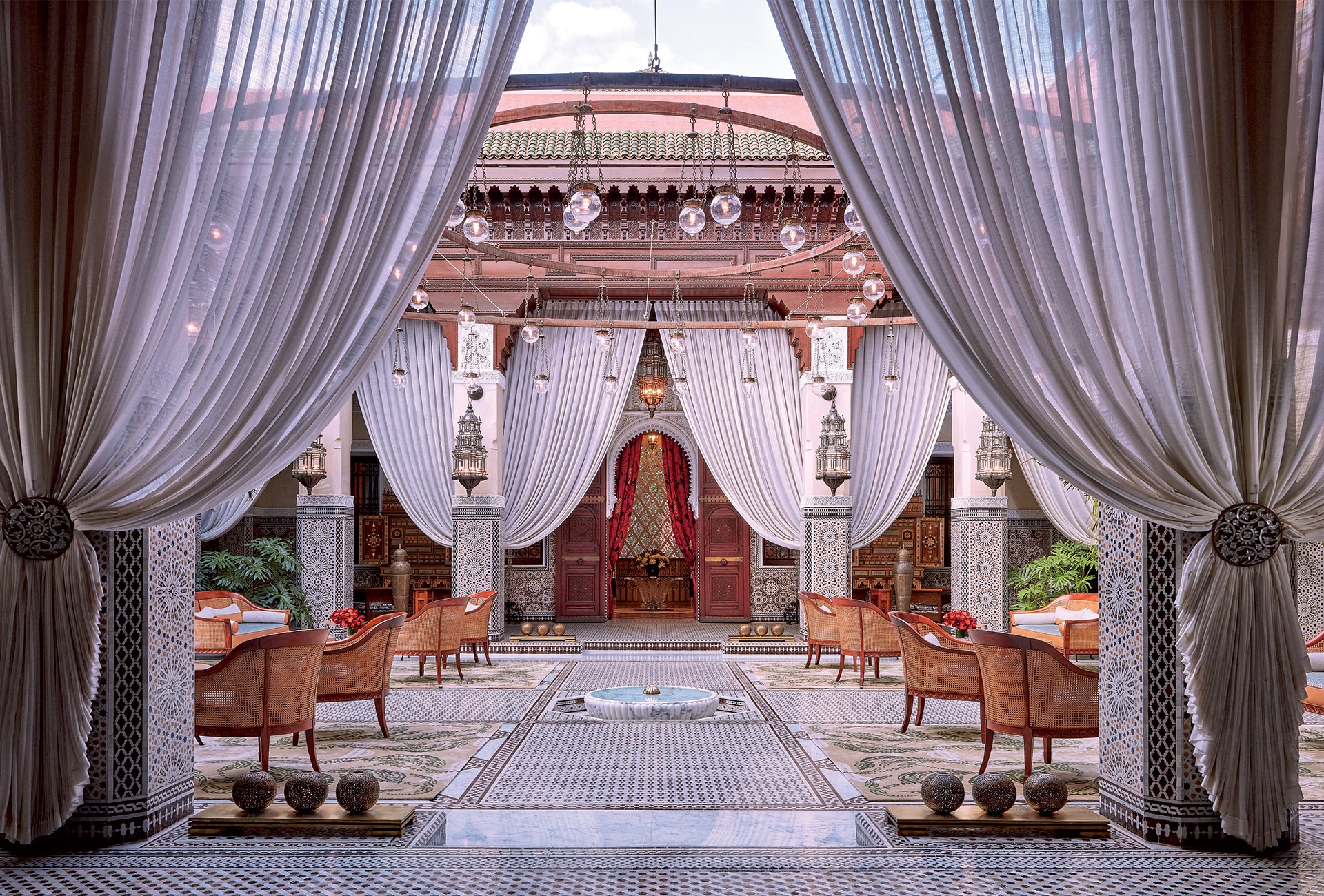 Traditional architecture, lush gardens and outstandingly sophisticated riads await you. The design of this luxury hotel in Marrakech incorporates the elements of an authentic medina, where guests can stroll around and discover sensual delights. The rooms and suites have been replaced by luxurious riads and the corridors by winding alleyways. The Royal Mansour Marrakech is the only hotel establishment in the world to offer this unique concept.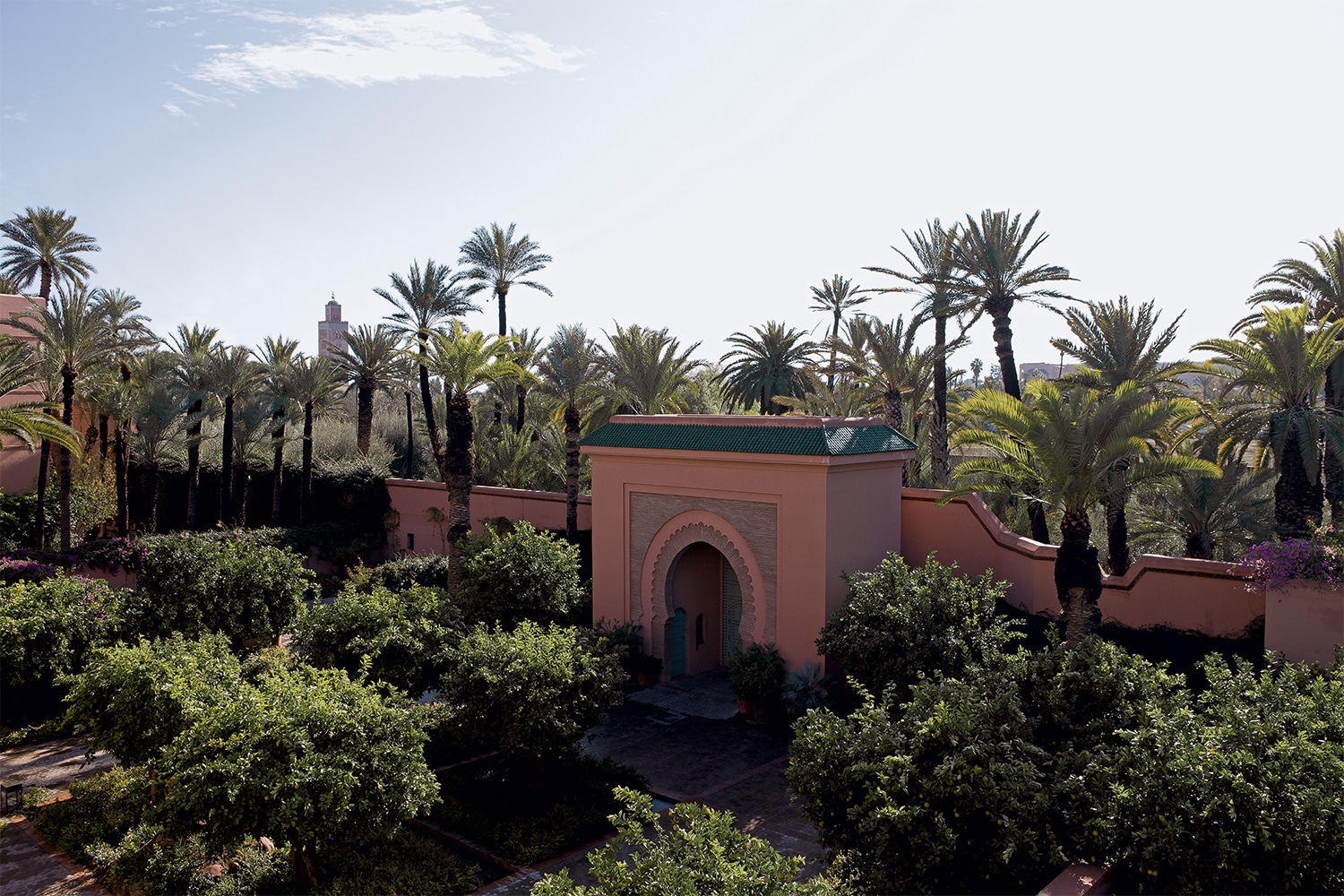 The Royal Mansour, a haven of elegance in the heart of Marrakech
Born out of a desire to share the Moroccan art de vivre with the world, the Royal Mansour Marrakech plunges travellers into a timeless atmosphere where confidentiality is key. Here, the mind is free to wander in this prestigious, perfectionist universe. Allow yourself to be carried away by the magic of this unparalleled palace, known to insiders as the "best hotel in Marrakech".
A timeless, unforgettable, exceptional luxury hotel
Protected by the walls of the imperial city and overlooked by the majestic peaks of the Atlas Mountains, the emblematic Marrakech palace is at hand to guide you through its exclusive 5-hectare estate. Its medina, restaurants, gardens, 2,500 sqm spa, 53 charming riads and outstanding concierge service set a new bar for luxury hotel standards with the classic Royal Mansour style.
53 private riads with one to four bedrooms and a pool
The Royal Mansour Marrakech unveils a collection of 53 independent riads. In a true display of Moroccan handicraft, each riad is unique and decorated in its own deliciously enchanting style. Cosy lounges, shaded patios, exquisite bathrooms and terraces with a view of the majestic Atlas mountains – what dreams are made of!
Four signature restaurants in the heart of the Palace
As bastions of culinary and gastronomical excellence, the Royal Mansour Marrakech's restaurants are at hand to satisfy all your indulgent desires. Orchestrated by the talents of renowned chefs, our restaurants promise an unforgettable sensory experience in the heart of the Ochre City. Among them, the Grandes Tables have made the choice of excellence.
Le Jardin and its swimming pool, an Andalusian harmony under the open sky
For all those looking for some cool respite from the sun, our luxury hotel offers a little piece of heaven with our swimming pool in Marrakesh. Lush vegetation, the gentle trickling of the fountains, sunbeds and private pavilions… Le Jardin Royal Mansour, designed by the Spanish landscape architect Luis Vallejo, is an ode to the gardens and greenery iconic to the Ochre City.
The Royal Mansour Spa: the ultimate wellness destination
Enjoy royal treatment at our spa in Marrakech. Feel the soothing effects of our hammam, outstanding treatments, hairdressing salon, gym, heated swimming pool, magnificent atrium… The Royal Mansour Marrakech Spa is a voyage in itself, a retreat to relaxation and well-being.
Exclusive benefits when you book direct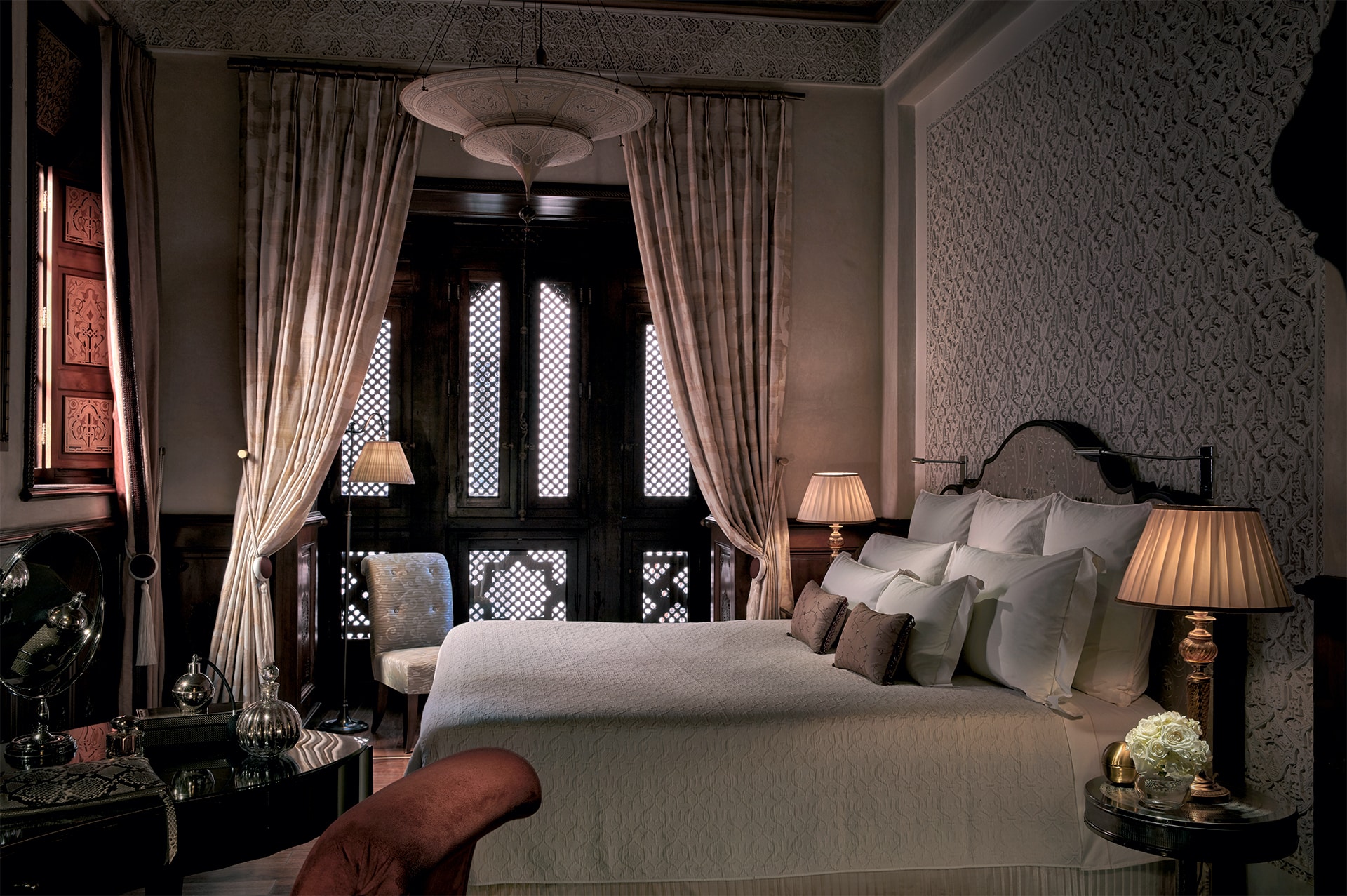 140 SQM | 1-BEDROOM RIAD

Superior riad
Spread over 3 floors with harmoniously balanced volumes, the 15 Superior riads offer you a 140 sqm from which to enjoy the Ochre City alone or as a couple.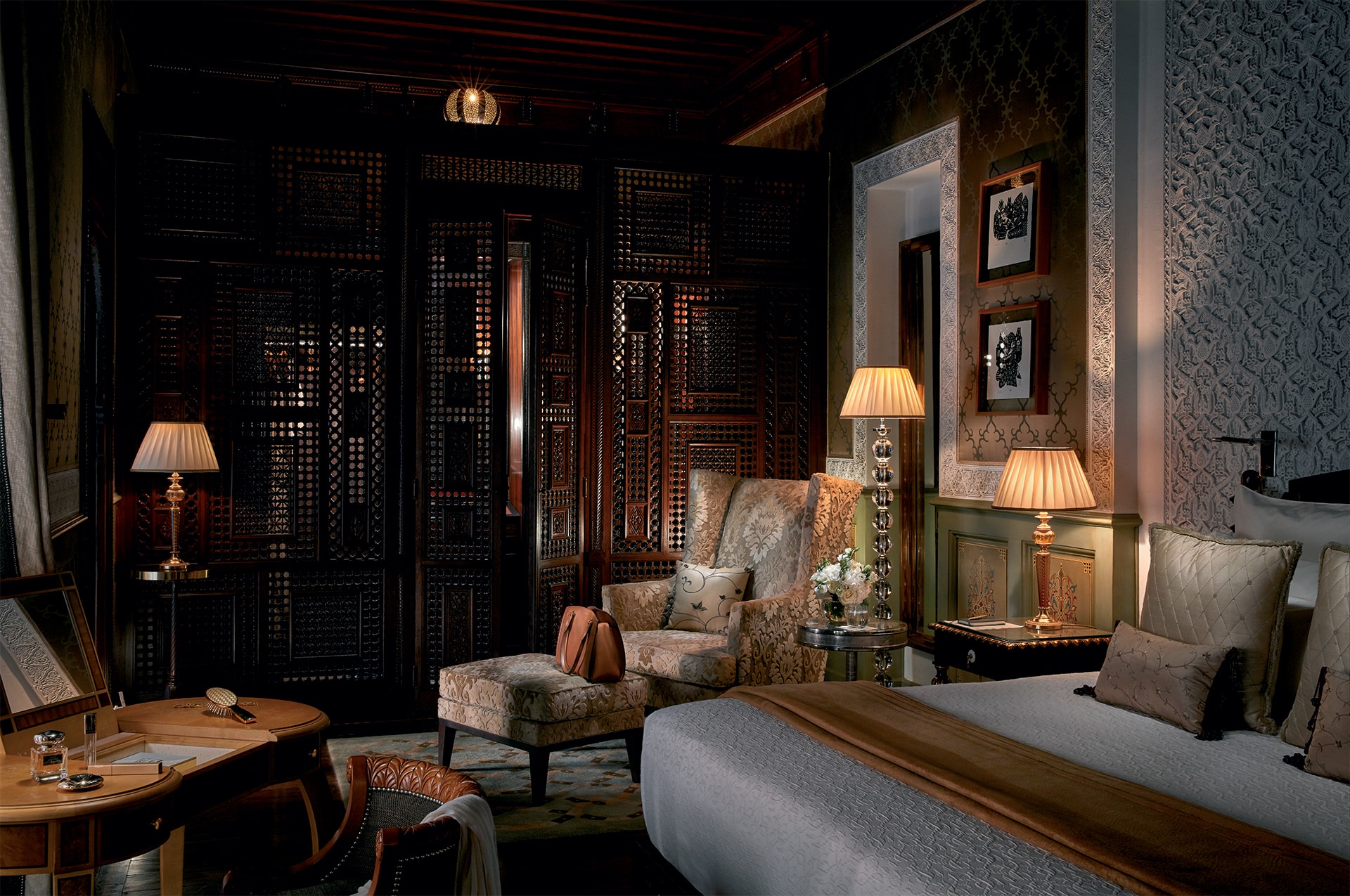 175 SQM | 1-BEDROOM RIAD

Premier riad
With a one bedroom, the 19 Premier riads offer 175 sqm of living space over 3 floors. A tranquil haven in which the Moroccan art of living reigns.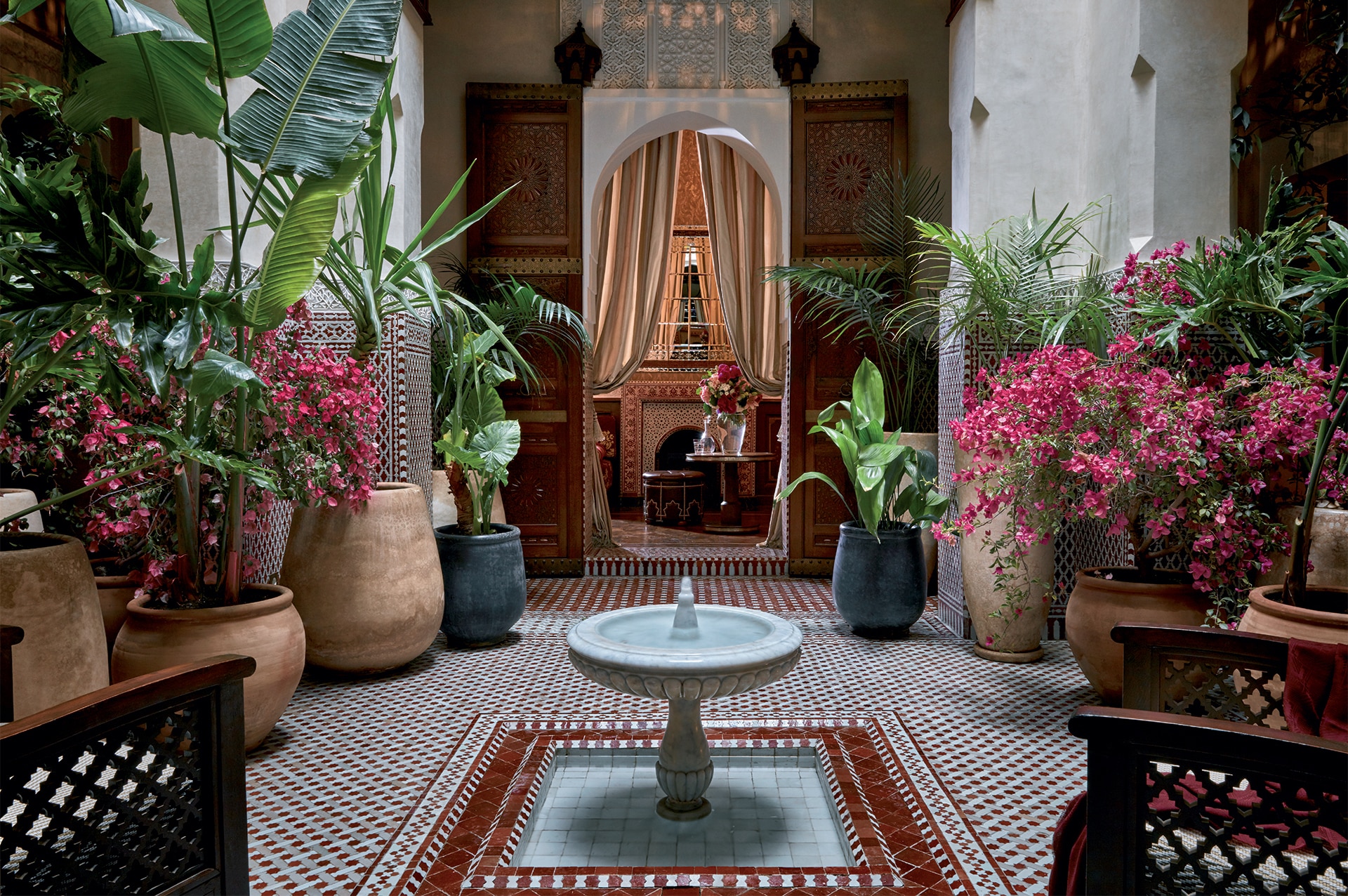 430 SQM | 2-BEDROOM RIAD

Privilege riad
At 430 sqm, with two bedrooms, lounges, a bar and a butler at hand, each of these 14 Privilege riads are ambassadors of excellence and comfort.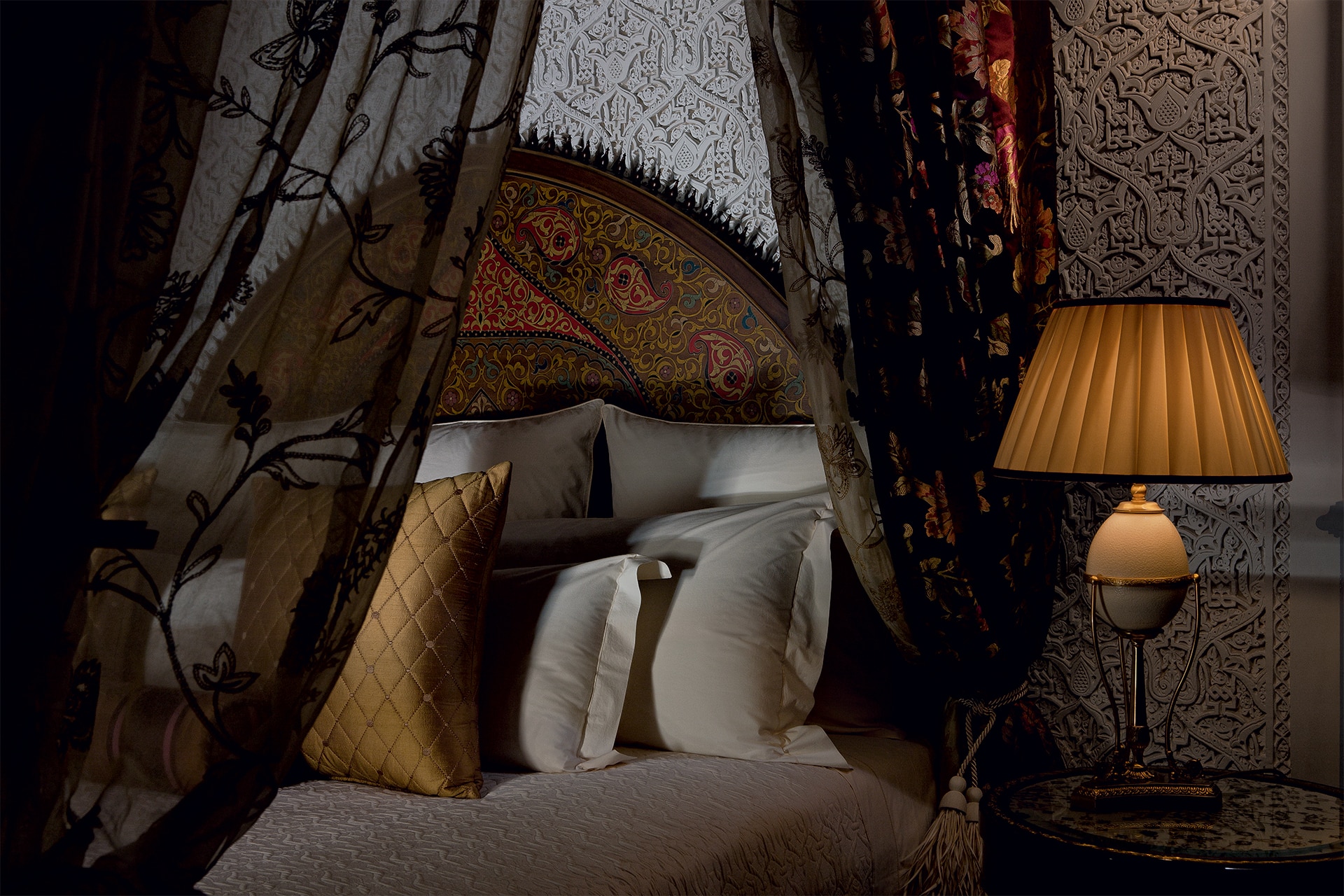 840 SQM | 3-BEDROOM RIAD

Prestige riad
The 840 sqm surface of the 4 Prestige riads propagate pleasures making each stay a rare experience. A cult residence with 3 bedrooms exuding luxury and refinement.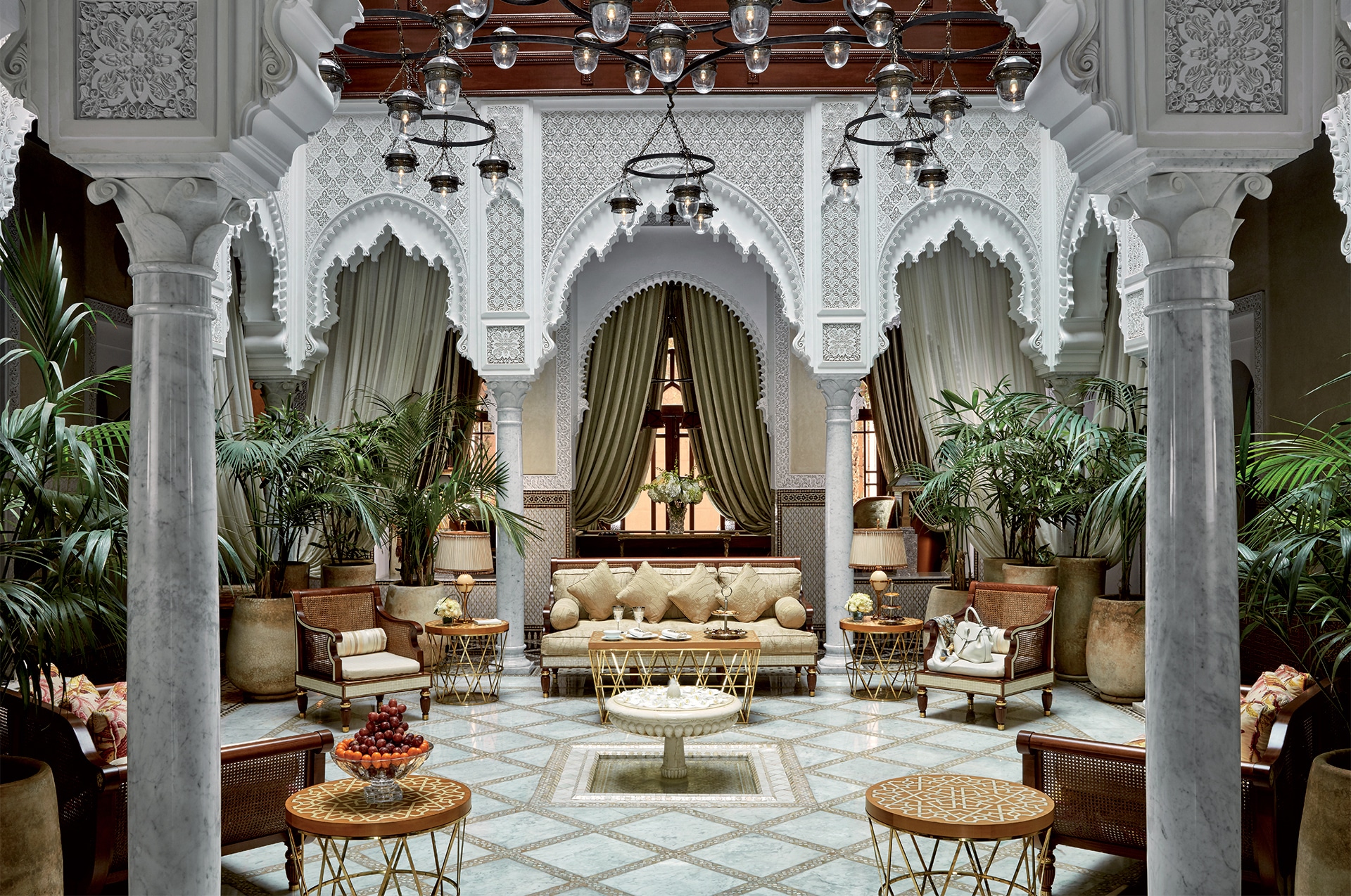 1800 SQM | 4-BEDROOM RIAD

Grand riad
With its garden, private swimming pool, hammam and four bedrooms, this exceptional and exclusive residence inspires the wildest dreams.
The heart of Marrakech beats at its strongest as the guest of the Royal Mansour
An exceptional location like no other, the Royal Mansour makes each instant a unique moment, an everlasting memory, an opportunity, leaving you with an unforgettable taste of Marrakech. Experience a world of elegance and refinement, and treat yourself – or your loved ones – to the very finest in Moroccan art de vivre.
SIGNATURE WORKSHOP

Cooking workshops
WELLNESS

Signature Hammam
SIGNATURE WORKSHOP

Patisserie workshops
SIGNATURE WORKSHOP

Mixology workshops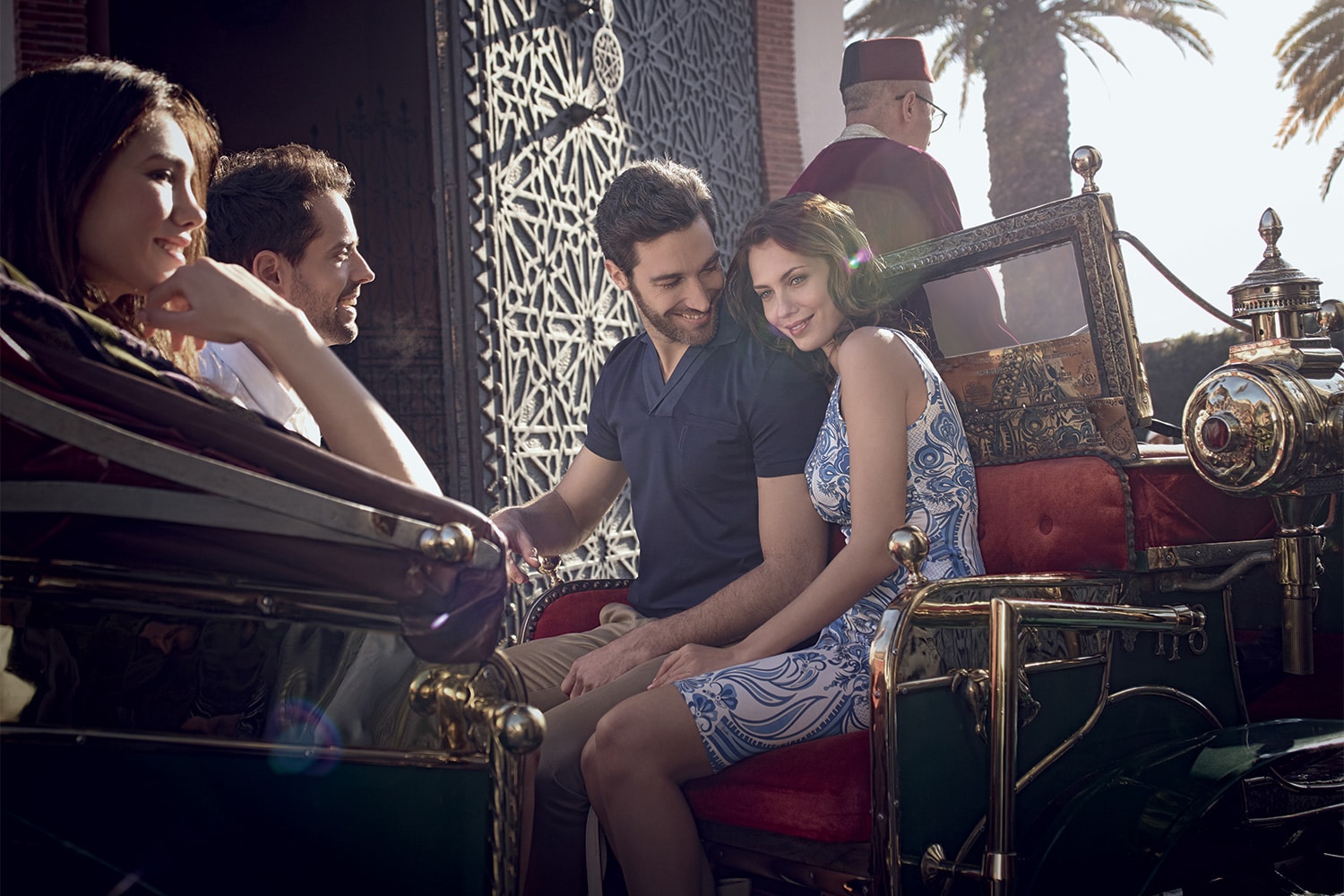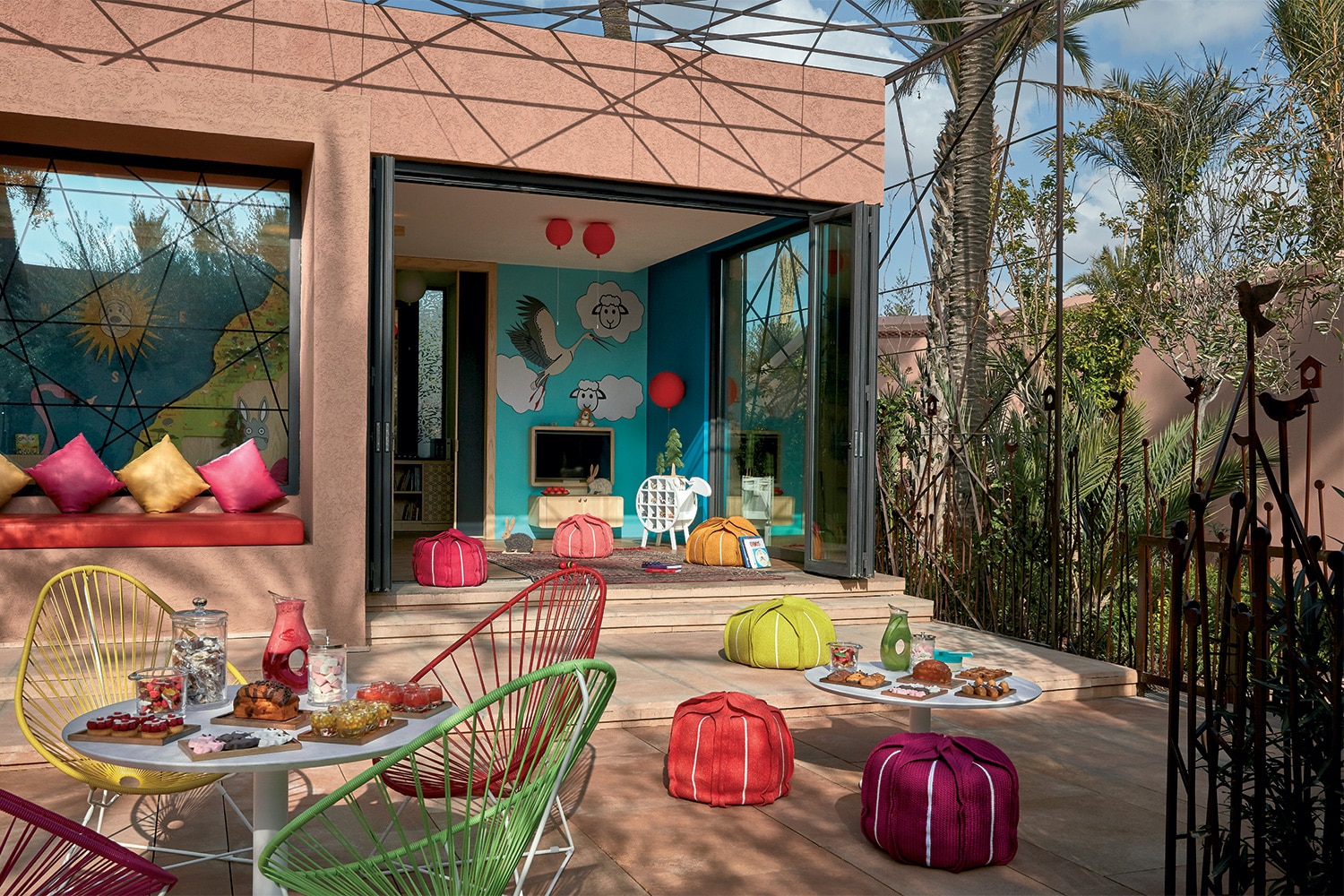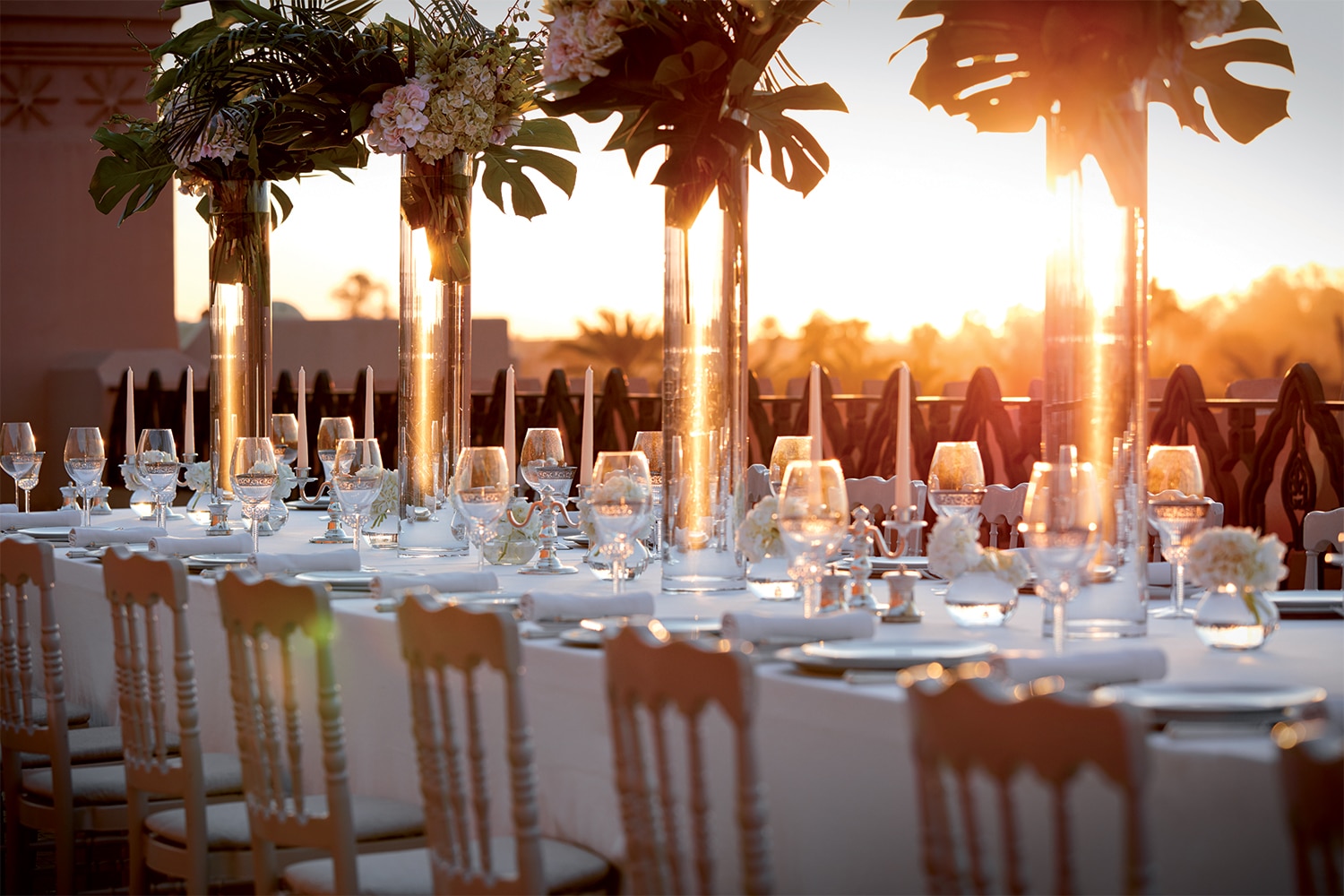 Our Marrakech: exclusive activities by Royal Mansour
The thrill of an exceptional hotel experience is enhanced by the pleasure of visiting Marrakech from a unique perspective. The Royal Mansour concierge service have numerous local tips to ensure you have an unbeatable stay in Marrakesh. Based on your desires, they will plan out an individually tailored programme for each of your adventures into the Moroccan Kingdom.
In Le Jardin de Lila, the Royal Mansour rolls out the red carpet for children
As we believe that discovering the world enriches us and helps us to grow as human beings, we set up a kids' club at the Royal Mansour Marrakech to offer them a unique opportunity to uncover the beauty of the Moroccan culture. We have grand plans for you, our little guests.
An event tailored to your needs: elegance and refinement
In the heart of the Royal Mansour Marrakech hotel, the splendid conference rooms, private residences and enchanting gardens offer majestic and unforgettable settings. Marriages, receptions or business meetings: we can organise private and professional customized events just for you.
ROYAL MANSOUR MARRAKECH NEWS

Salam Alaykoum
M'rouzia of lamb with saffron almonds: the recipe of Chef Karim Ben Baba
The falafel sandwiches recipe by chefs Jaouad Boulaayat and Mohamed Ben Doudou
A one-of-a-kind establishment, a story of reinvented glamour
Butlers, housekeepers, florists and other luxury artisans give the Marrakech Palace a special charm: that of kindness, sincere dedication and beautiful touch, creating emotion at every moment. These delicate attentions, which make the Royal Mansour stand out from other luxury hotels, are offered in their rightful measure for a service that is always discreet, considerate, joyful, yet never intrusive.