Cooking workshops

Introduction to culinary art in Marrakech
The Royal Mansour Marrakech's cooking workshops are designed to satisfy all your desires, from beginners to passionate cooks, from vegetarian gourmets to those who are simply curious to learn. In its new cooking school with high-tech professional equipment, the palace offers you a unique experience in the heart of the Ochre City. All you need to do is choose your culinary experience to learn the basics of Moroccan or Italian cuisine.
Moroccan cooking classes: immersion in local culture
Typical Moroccan recipes, expert advice and tips from great chefs… The emblematic dishes of La Grande Table Marocaine at the Royal Mansour Marrakech will soon hold no secrets for you! During a Moroccan cooking workshop, you'll discover the Kingdom's rich culinary heritage.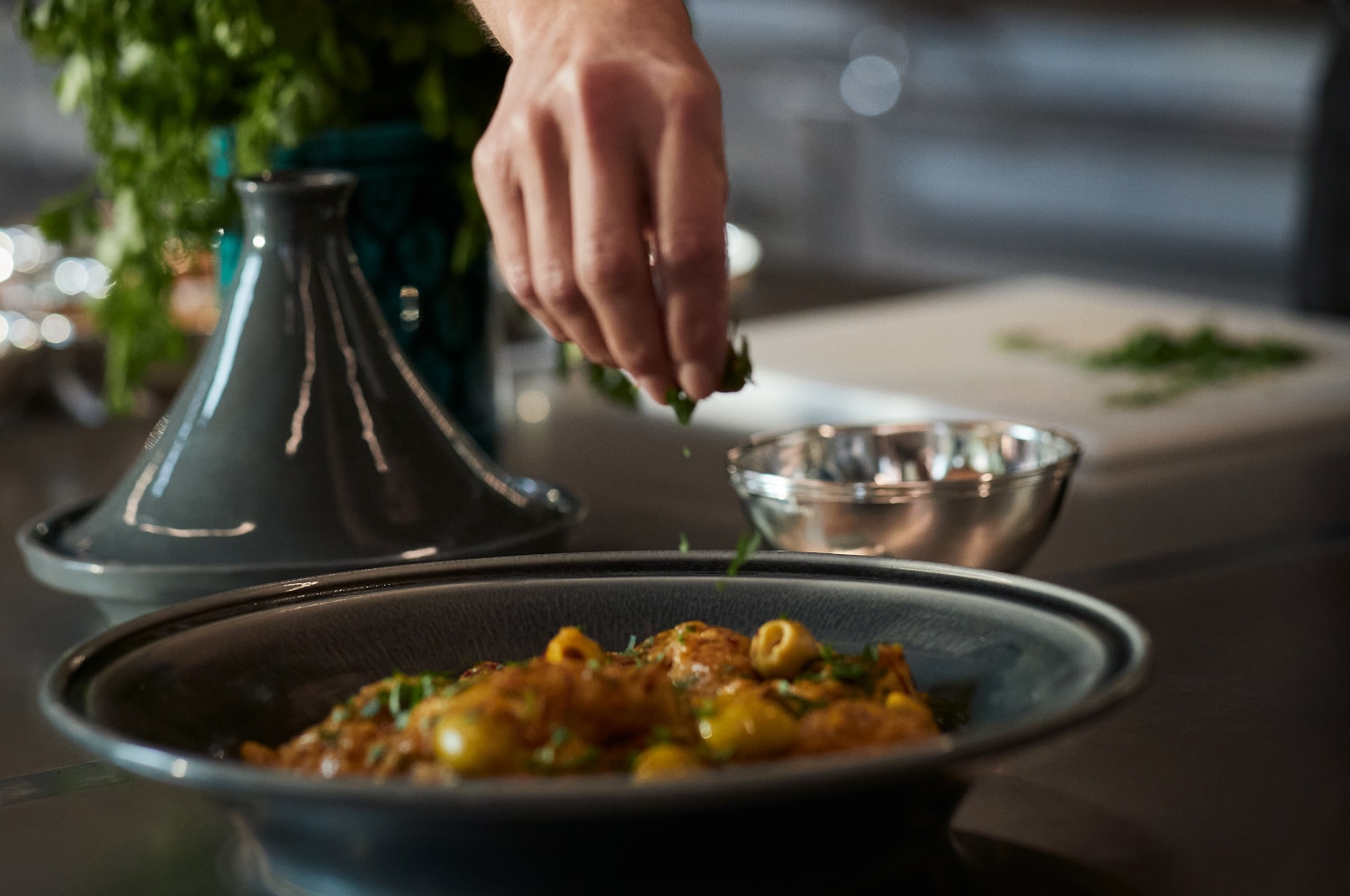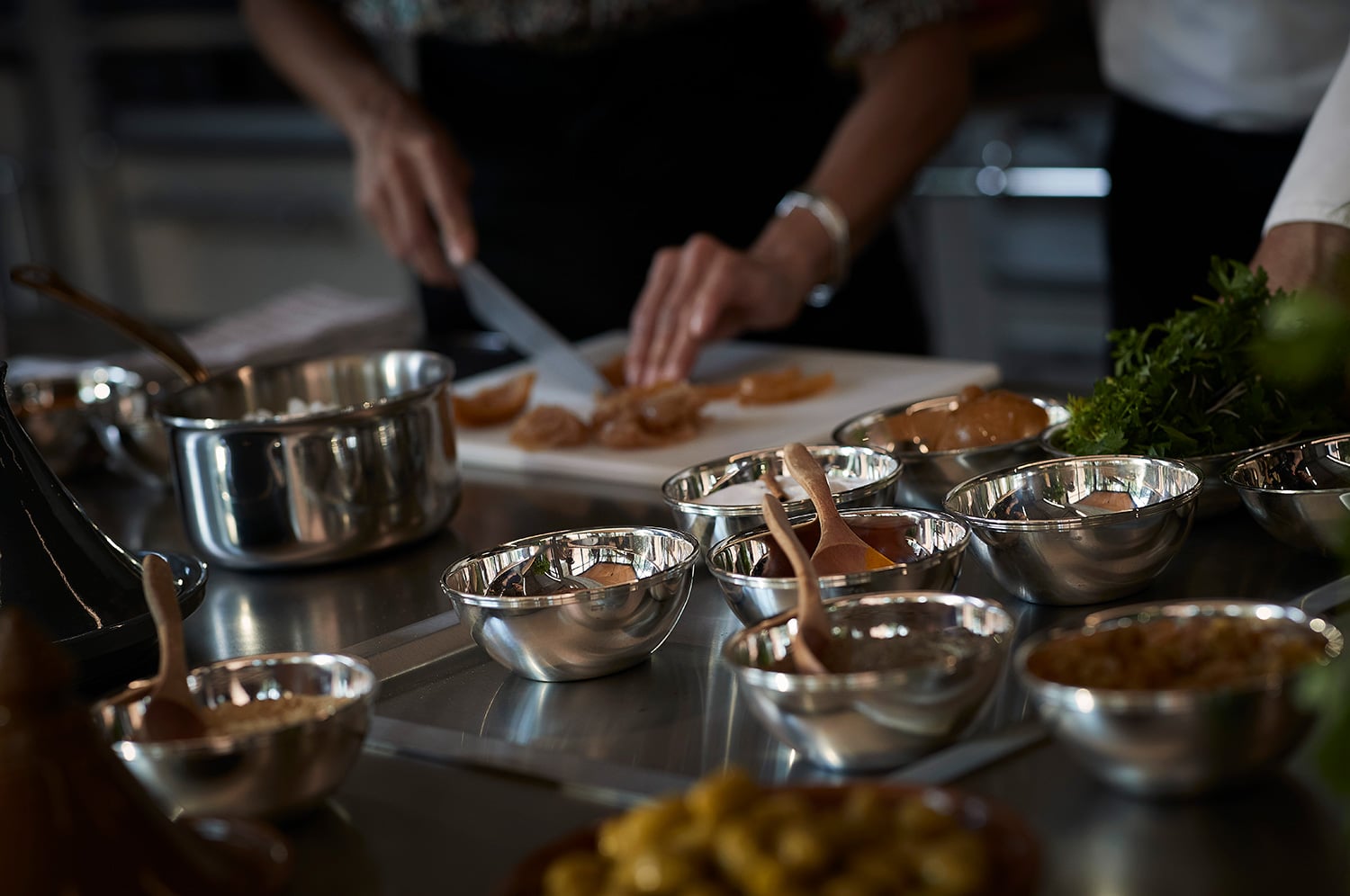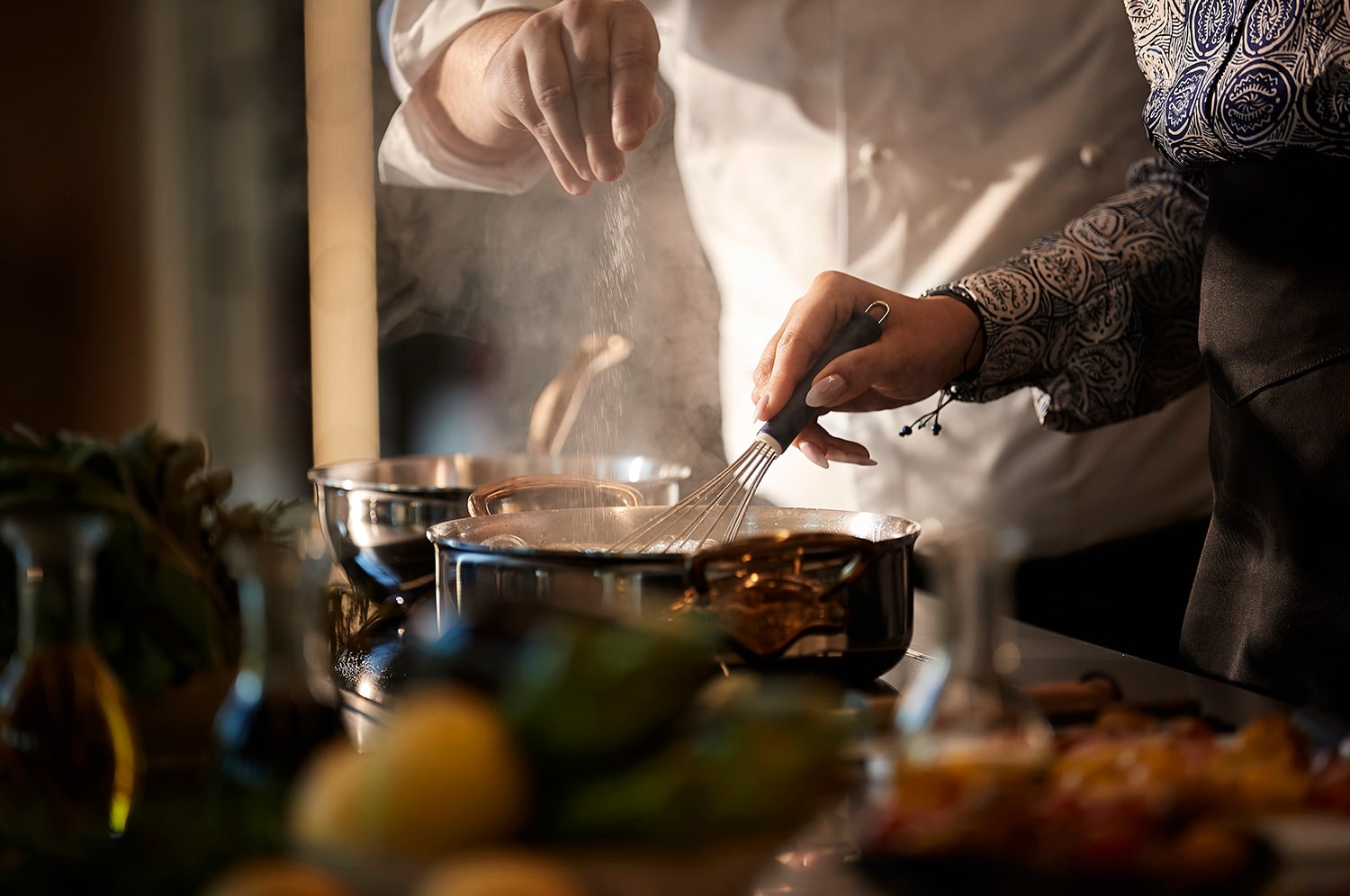 Flavours of the past and present
Learn how to prepare the famous tajine of free-range chicken with olives and preserved lemon, and the irresistible spinach and fresh cheese briouates served at La Grande Table Marocaine. A perfect introduction to traditional cooking techniques and the art of blending flavours.
Sweet and sour Moroccan style
Discover the subtle alchemy of sweet and savoury with M'rouzia lamb with saffron almonds and Seffa steamed with milk, raisins and cinnamon almonds. With its delicate scents and refined flavours, this Moroccan cooking class in Marrakech will amaze all your senses.
Explore land and sea recipes as you cook a delectable tajine of fish and courgettes with thyme blossom, accompanied by lamb briouates flavoured with fresh mint. A culinary experience full of lightness and finesse to satisfy every taste!
Italian cooking classes: The Dolce Vita in the heart of the red city
Italian food lovers, our cooking workshops in Marrakech will instantly take you into the gourmet universe of the great transalpine chefs. An introduction to the basics of Italian cuisine, techniques for preparing fresh pasta… Soon you will be preparing traditional Italian specialities like a chef!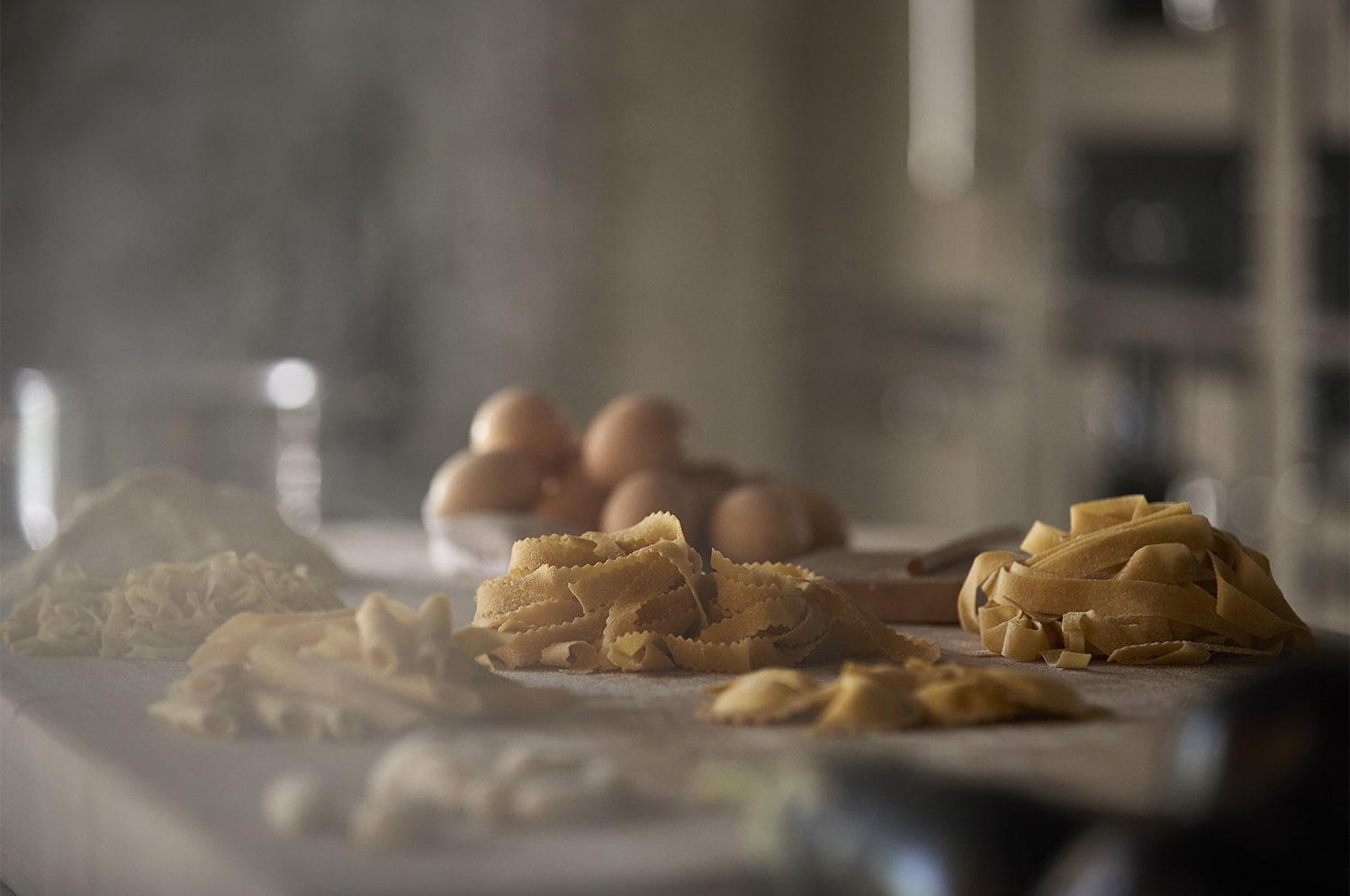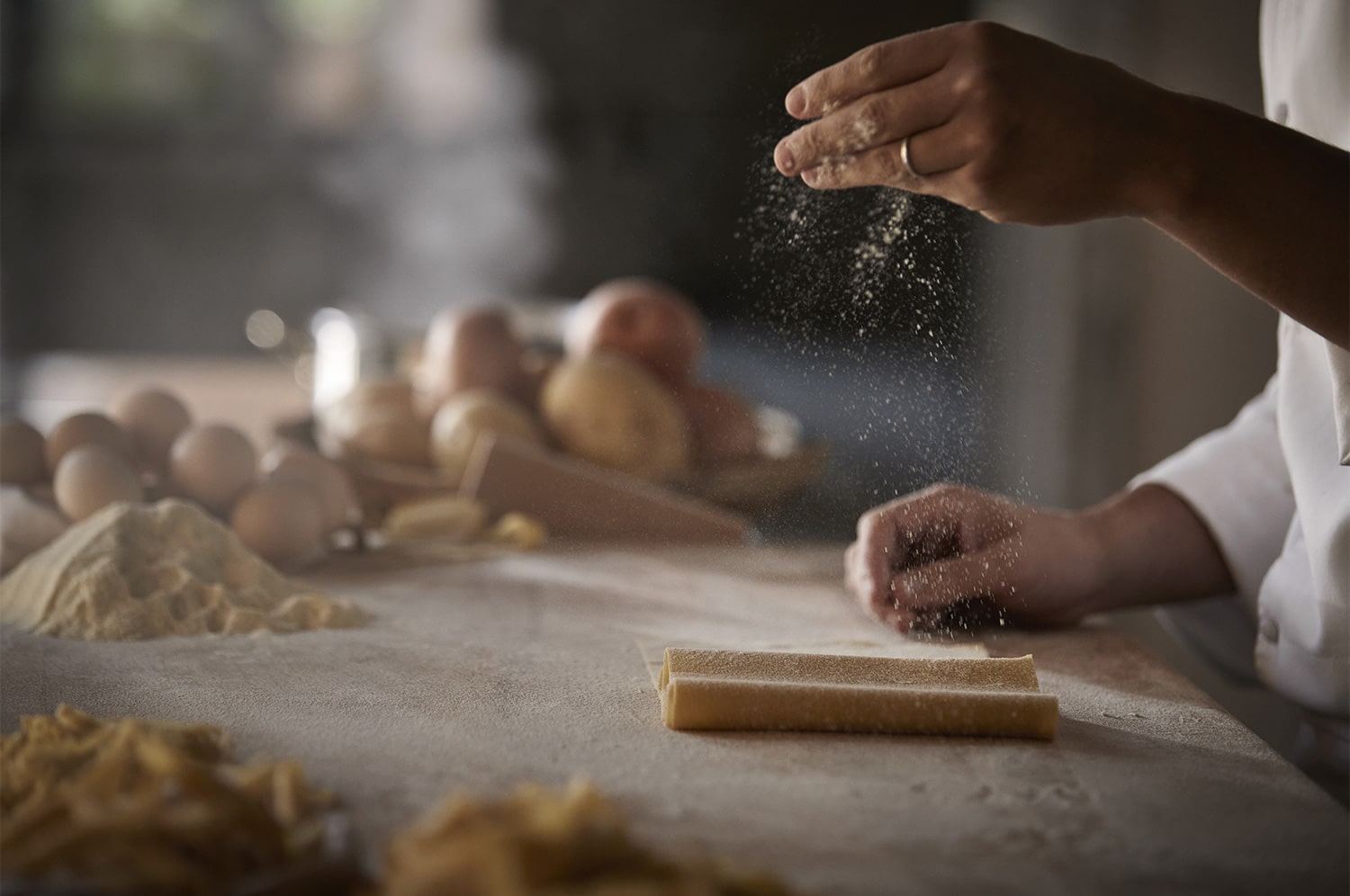 Uncover the secrets of making fresh pasta the Italian way, and learn the techniques for preparing a perfectly balanced fish stew. This Italian cooking class will guide you through making ravioli with burrata, fish stew and tomato fillets.
Discover Italian specialities by learning how to make the famous all'amatriciana potato gnocchi exactly like a chef! A great classic of Roman cuisine, the Amatriciana sauce made with tomatoes and pecorino cheese will hold no more secrets for you.
Palace-style cooking workshops in Marrakech: the Royal Mansour signature
With its culinary workshops, the Royal Mansour Marrakech celebrates passion, transmission and the art of hosting rooted in Moroccan culture. In its cooking school, an exceptional venue in Marrakech, every moment is infused with timeless elegance. Here, the central island evokes the warm, friendly atmosphere of a real family kitchen. Over there, a majestic marble table, bathed in natural light, ends each workshop with a tasting of the dishes created. Your senses are awakened, your taste buds transported to culinary realms as sophisticated as they are captivating.
Other Signature workshops to discover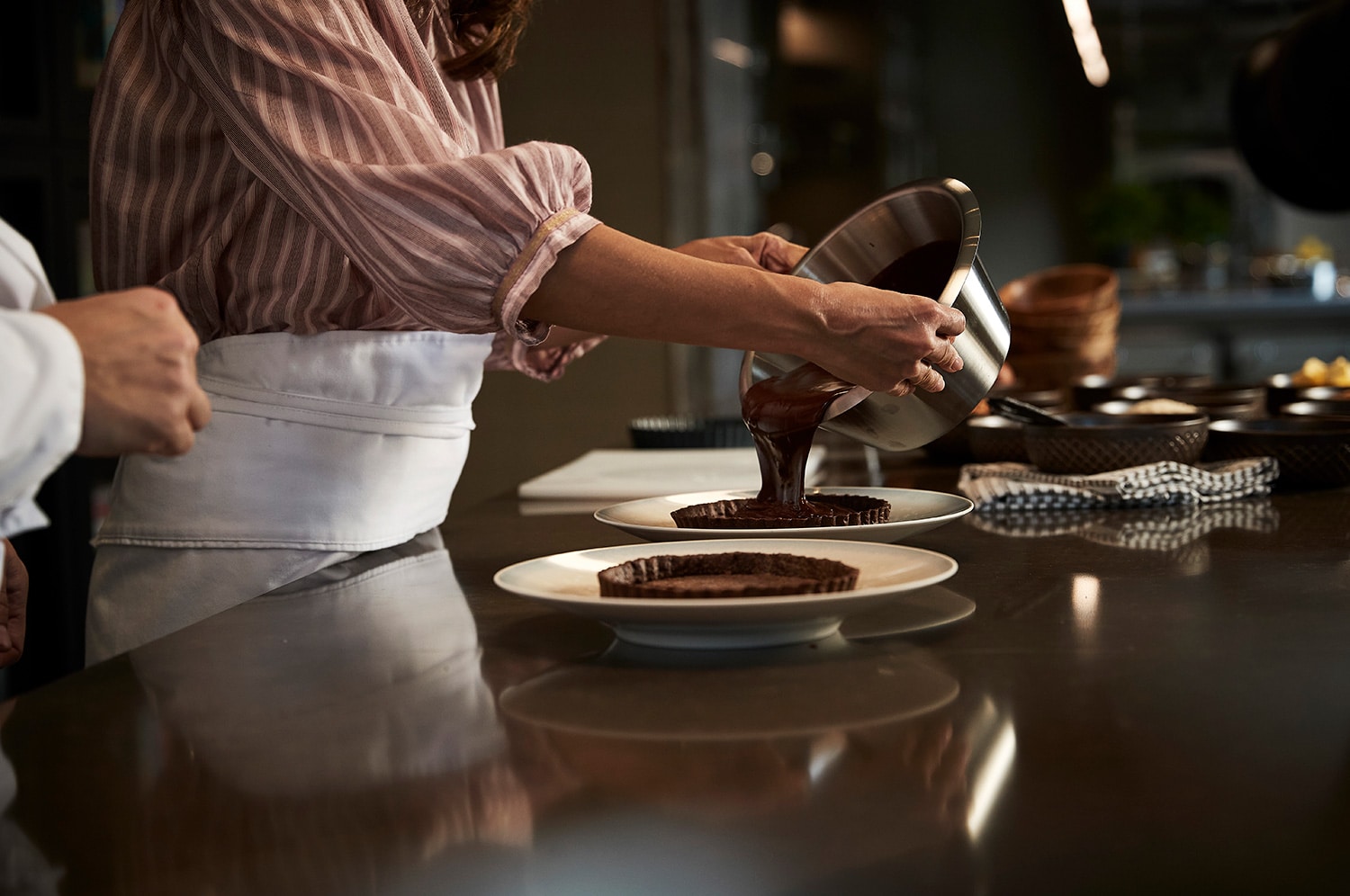 2H00 MAD 1500/PERS

Patisserie workshops: the sweet arts palace-style
Open the door to a pastry-making class in the Royal Mansour Marrakech kitchens and enjoy a unique moment of savoir-faire allowing you to transform sweet and gourmet creations into masterpieces.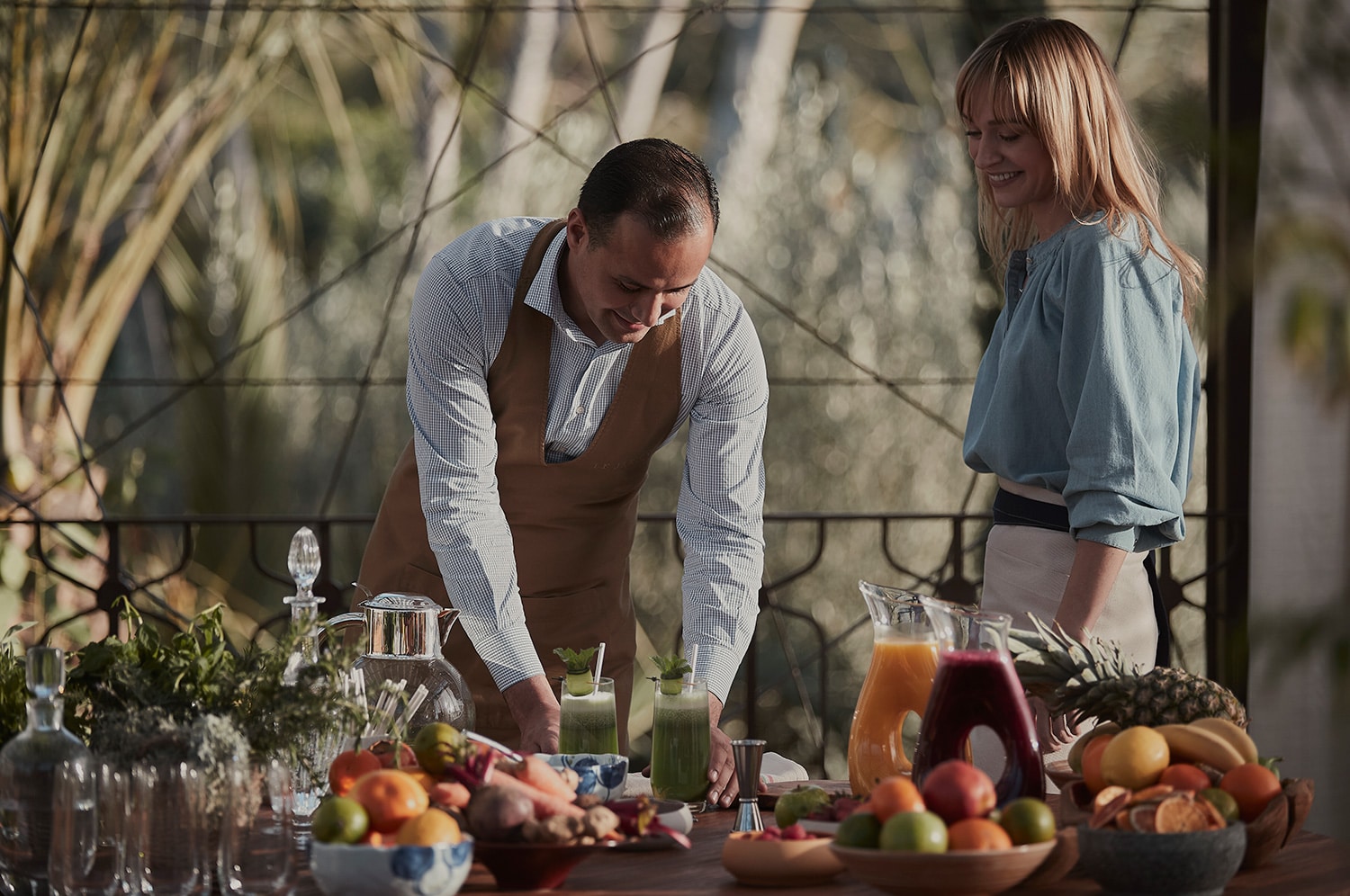 1H00 MAD 1000/PERS

Mixology workshops: the art of heavenly blends
Learn the art of divine concoctions from our our skilled mixologists. Detox juices, vitamin-filled cocktails and wellness infusions welcome you to a world of incredible flavours and delightful smells.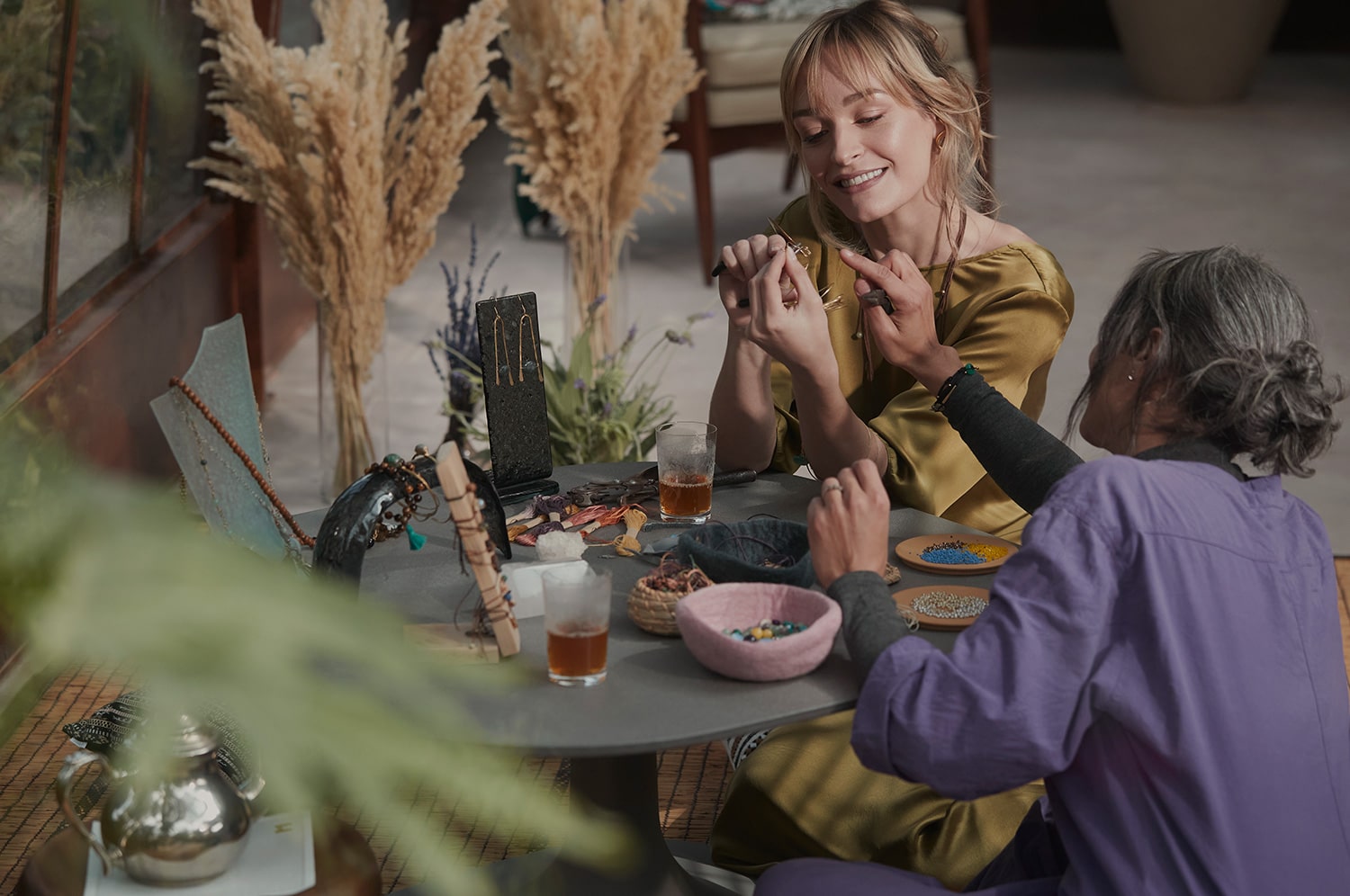 1H30 MAD 2000/PERS

Artistic workshops: the power of creative expression
Indulge in our workshops in plastic arts, self-expression, painting and modelling. Colours, movements, textures and gestures will give your soul a breath of fresh air.