Le Jardin, a peaceful haven in the heart of the Ochre City
At the foot of the ramparts, in the western part of the medina, the Royal Mansour Marrakech's lush landscaped garden expands this sweet living universe. Under the infinite blue sky of the Imperial City, an idyllic lush setting spread over a little more than 2 and a half hectares of garden soothingly envelop you. For a day by the pool in Marrakech, Le Jardin offers you the most beautiful setting.
By the pool, a luxuriant vegetation by Luis Vallejo
Born from water the dessert, Marrakech is an oasis with infinitely precious gardens… Bequeathed with great Arab-Andalusian tradition, Le Jardin at Royal Mansour Marrakech pays tribute to the palm grove to which it owes its being. It is the word of Spanish landscape architect Luis Vallejo, who was inspired by paradise on earth.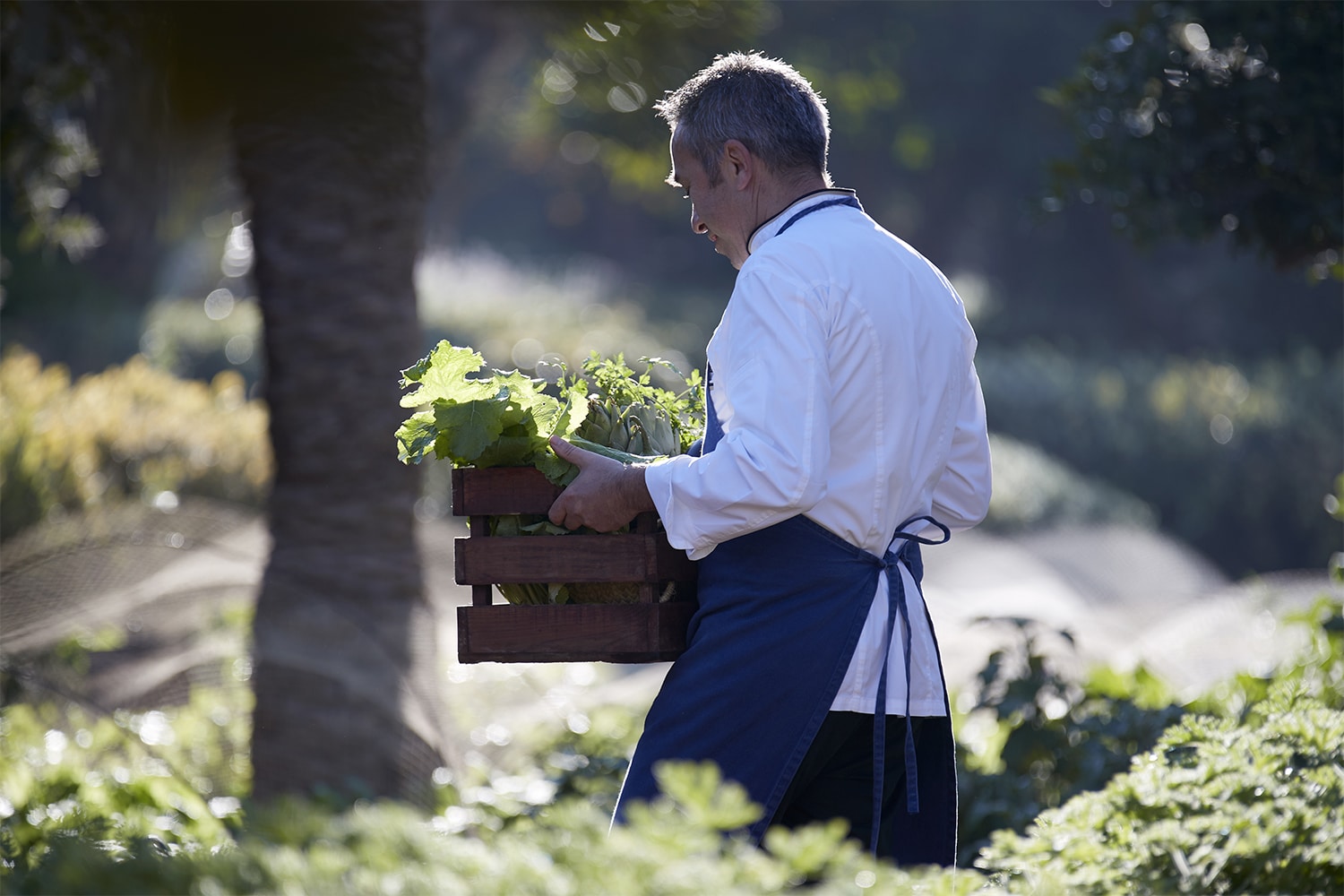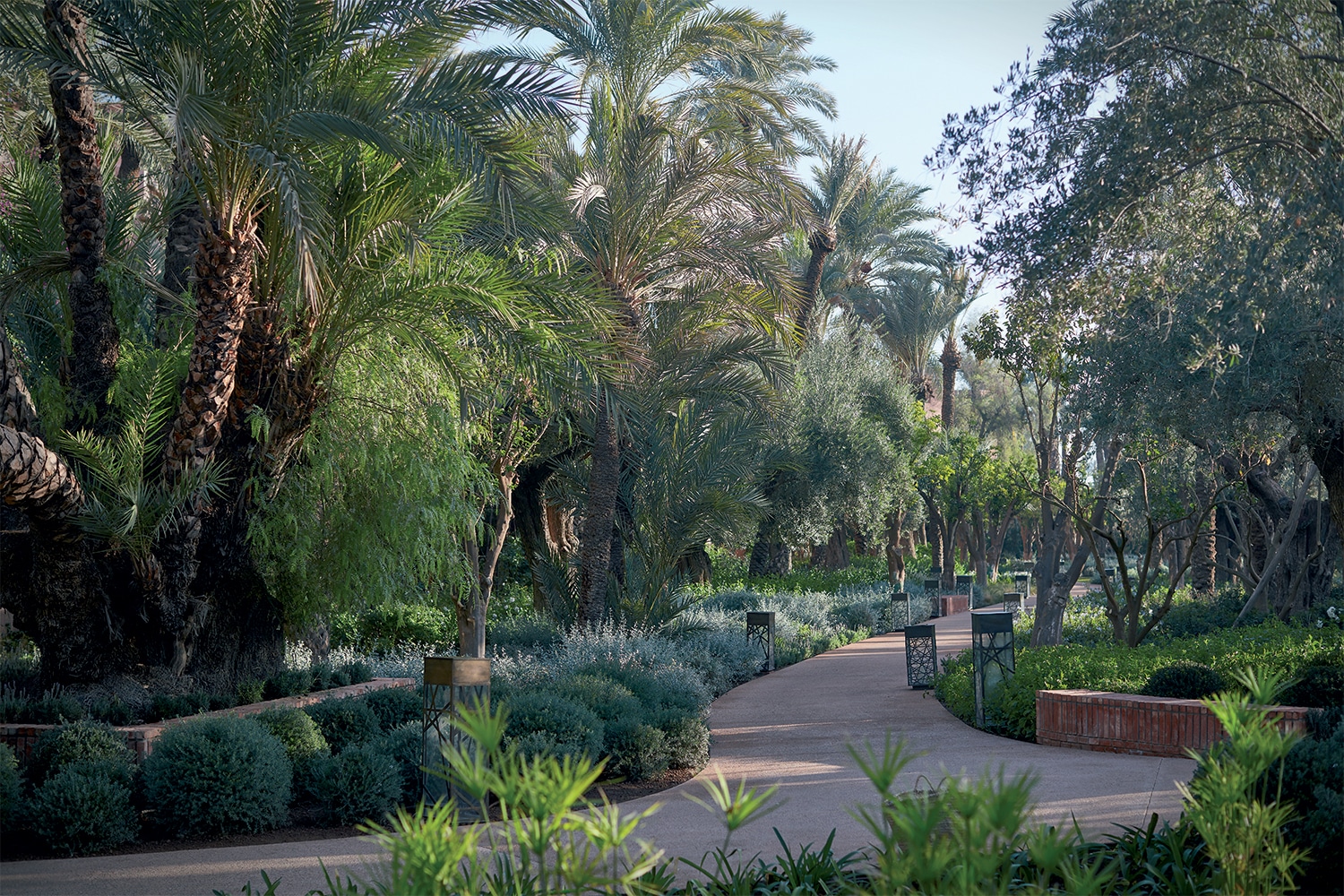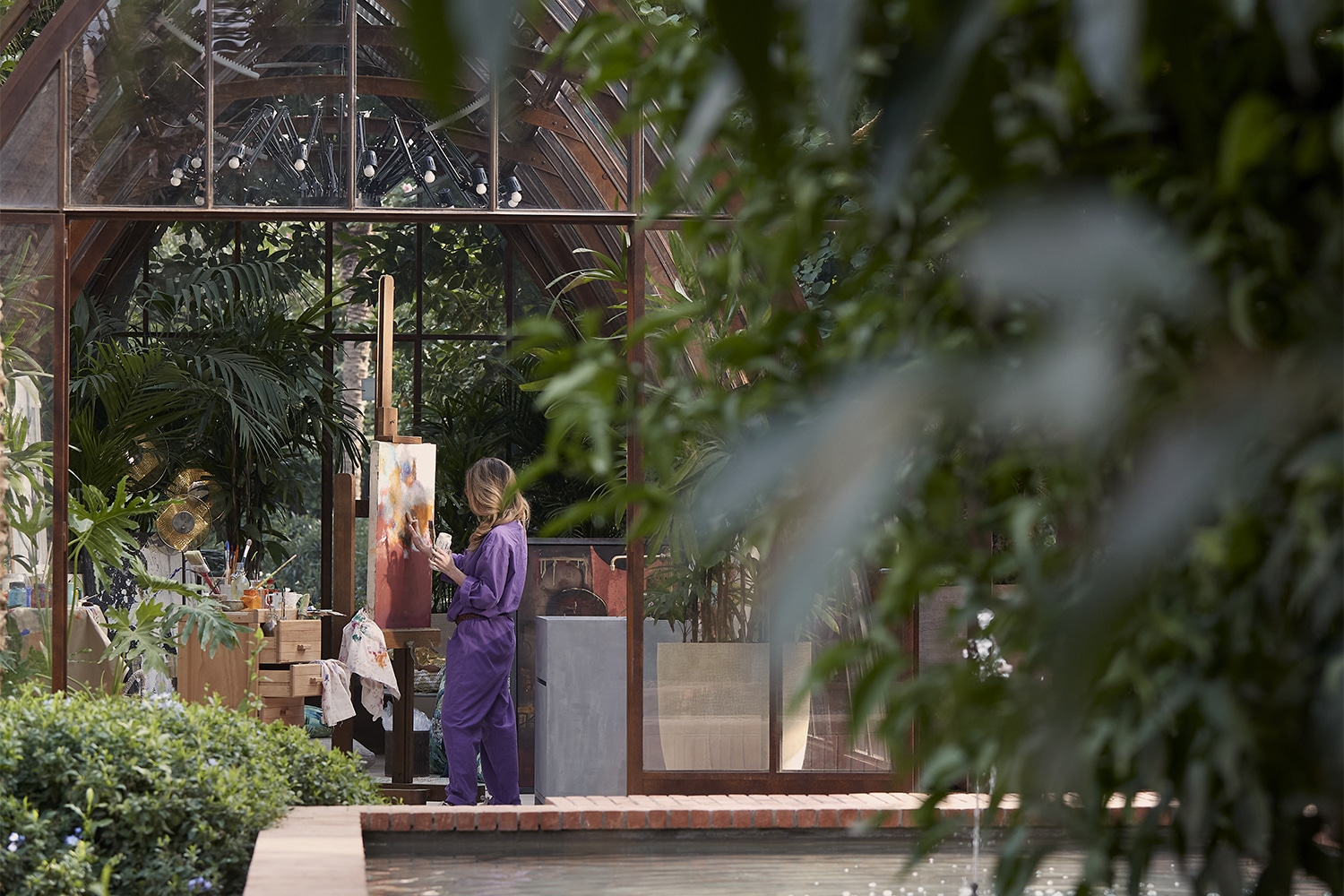 Arab-Andalusian harmony under the open sky
Spanish landscape designer Luis Vallejo has taken inspiration from the traditional irrigation system to create an abundant and healthy garden. Here, shades of vegetation sing a hymn to the art of great Marrakech gardens. Romantic kiosks, geometric flowerbeds, birds singing: an awakening for the senses.
Unparalleled pleasures from organic vegetable to bio-aromatic gardens
Colourful, fragrant, enchanting… in Le Jardin's vegetable garden, organic in-season vegetables are grown, that the Royal Mansour Marrakech Chefs then use to perfection in cooking. Medicinal plants, cultivated in the bio-aromatic garden, are used in infusions and other decoctions offered to Palace guests.
The artist residence: when art becomes therapy!
Nestled in the gardens of the Royal Mansour and housed in a glass greenhouse, the artist's studio is a truly unique location in the heart of the Ochre City! Art, painting, pottery, embroidery… This is where the various artistic workshops offered to guests and visitors to the Marrakech hotel take place.
A swimming pool in Marrakesh for intrinsic luxury-lovers
Ideal at any time, the main swimming pool of the Royal Mansour Marrakech blends harmoniously into the luxuriant garden. Sun loungers, shaded terraces, and sand-coloured furniture surround this idyllic 30-metre-long, 20-metre-wide pool. Next to the pool, seven private pavilions from 45 sqm to 80 sqm allow you to relax in sweet intimacy. A refuge of comfort especially appreciated on hot summer days.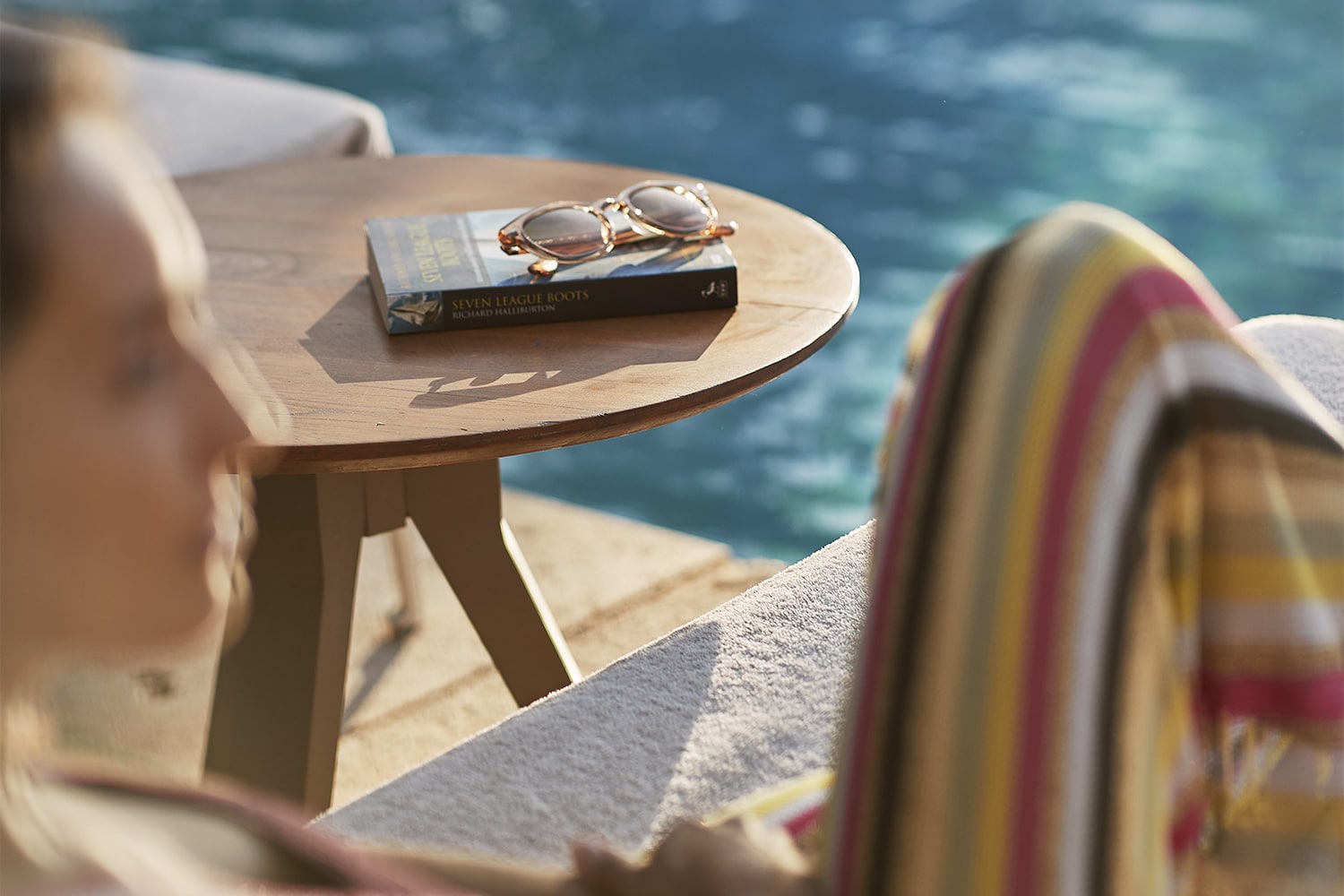 The ultimate location for a pool day in Marrakech
A haven of escape and laziness, Le Jardin provides access to the hotel swimming pool to day guests. The exclusive experience is perfect for all those looking for complete serenity in an unforgettable setting. Whether on a sun lounger or in the freshness of a private pavilion, alone, as a couple, with family or friends, you can completely let go.
Le Jardin restaurant bar: embrace relaxation
Le Jardin restaurant, right amidst the vegetation, will satisfy your indulgent desires with its Asian and Mediterranean-inspired flavor festival. Fresh dishes, grill specialities and festive tapas will thrill your taste buds. As night falls, a musical atmosphere envelops Le Jardin bar and starts the night off in lounge-mode friendly spirit.
Treat yourself to a vibrant voyage through the Moroccan art de vivre
Get away for a short two-night stay in Marrakech, where every moment resonates with an aura of sophistication that only the Royal Mansour can offer.
Enjoy precious moments with your family during a three-night stay or more, in a sumptuous private two-bedroom riad at the Royal Mansour Marrakech.
During a stay of three nights or more, fall for the most romantic tête à tête in the luxurious setting of the Royal Mansour Marrakech.
Get away for a short two-night stay in Marrakech, where every moment resonates with an aura of sophistication that only the Royal Mansour can offer.
At Le Jardin, exceptional detail in plant harmony
Botanical treatments, expert gestures and little extras around the Royal Mansour Marrakech pool echo the dreamlike beauty of Luis Vallejo's garden design. Precise gestures, original accessories, a kind word, delicate orange blossom fragrance and a cocktail in hand to help you reach perfect harmony make every instant near the pool a little more magic. All of the elements come seamlessly together to reveal the almost natural perfection of the setting.
Other experiences to discover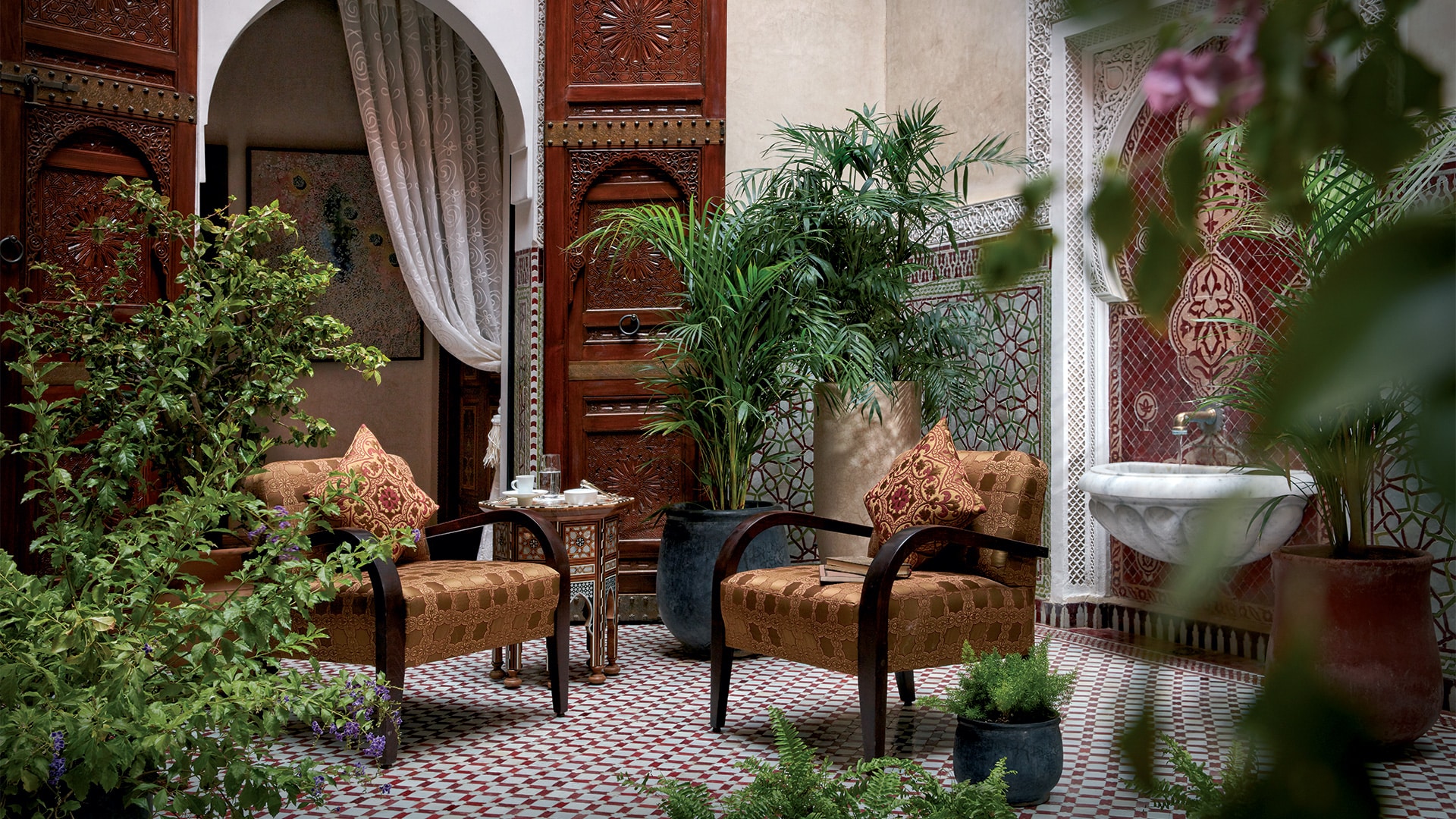 In a true display of Moroccan handicraft, each of the 53 riads is unique and decorated in its own deliciously enchanting style. All you have to do is select one and you're on for one of the most beautiful experiences of your life.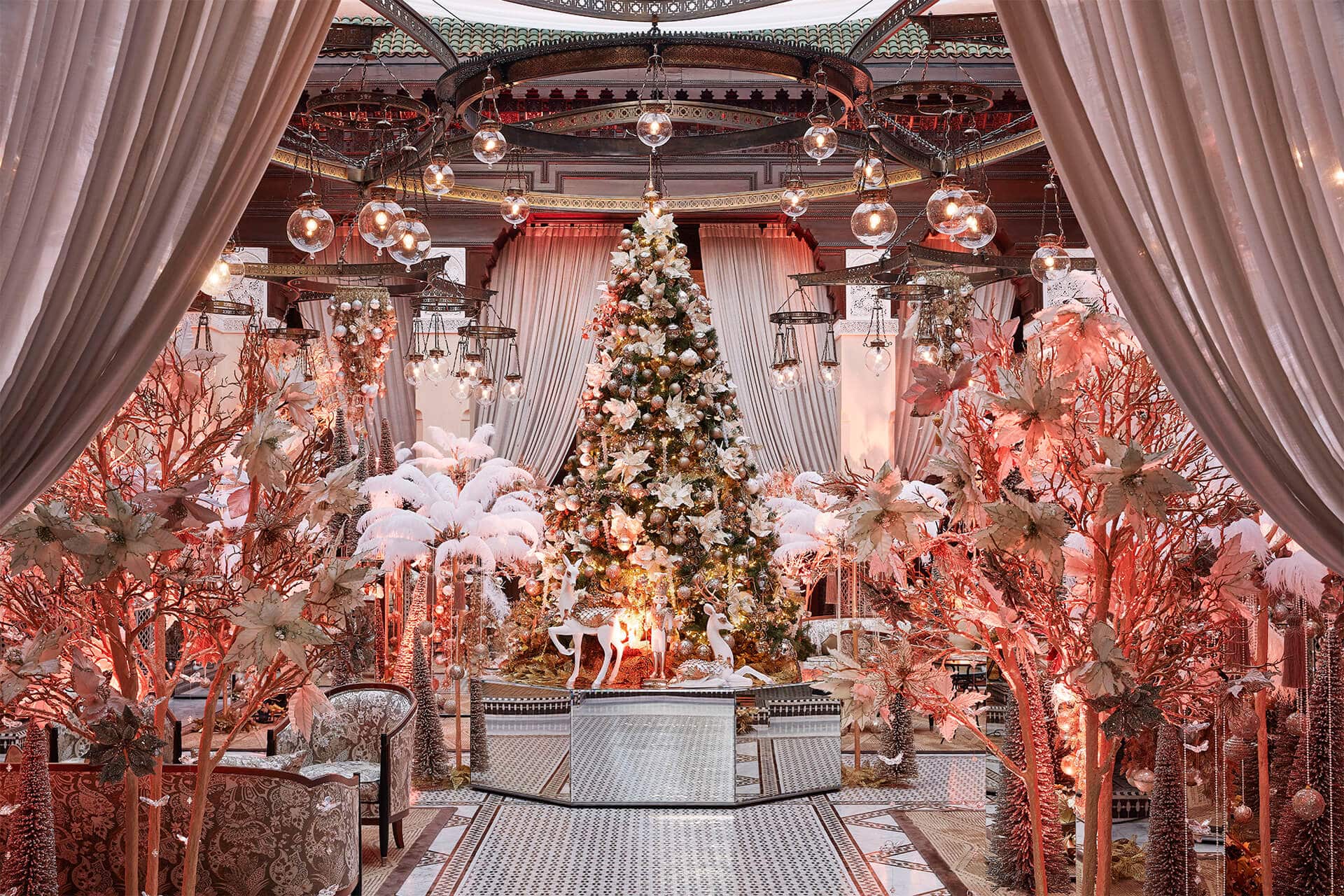 A glittering festive season 2023 at Royal Mansour Marrakech
The 2023 Christmas and New Year celebrations at the Royal Mansour Marrakech are shaping up to be grandiose! In the spirit of the Roaring Twenties, the Palace is dressed in its most sumptuous attire, promising fairytale celebrations in the Imperial City.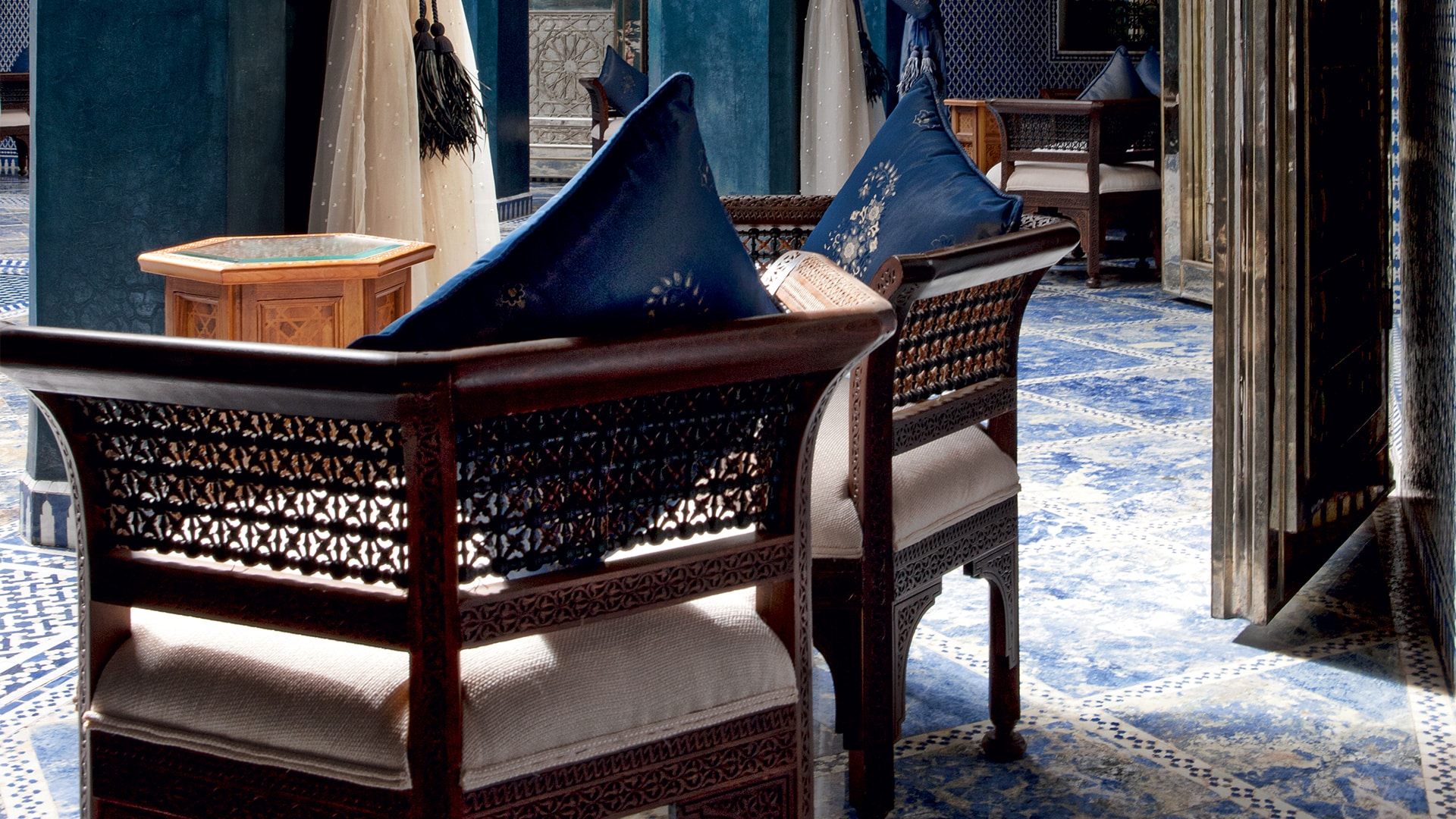 The Royal Mansour Marrakech's 4 restaurants promise an unforgettable sensory experience orchestrated by great chefs. Food, luxury and gourmet-lovers looking for something different have but to choose the setting in which the journey shall begin.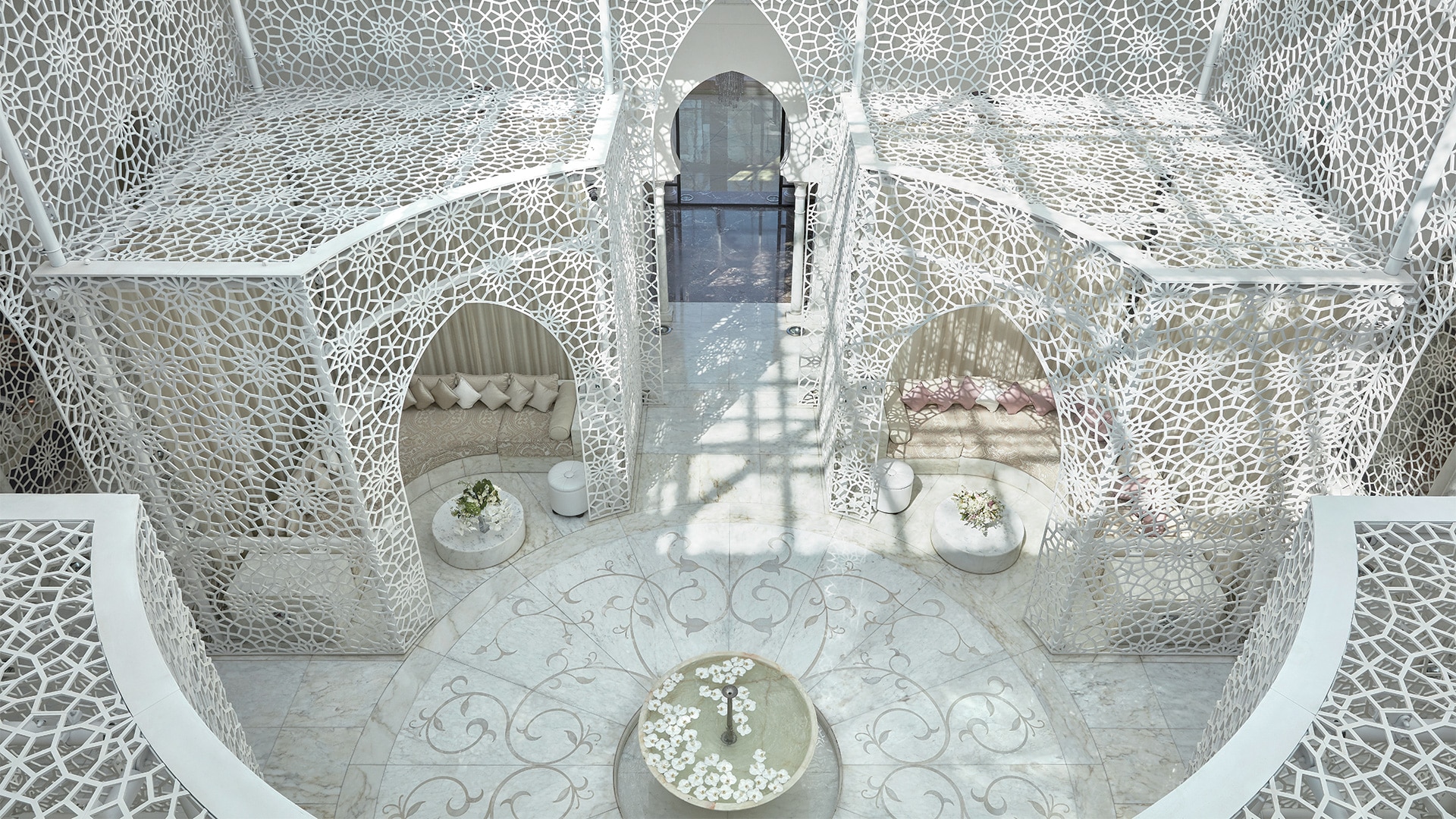 Recognised as one of the world's top wellness destinations, the Spa Royal Mansour Marrakech is a sanctuary entirely dedicated to your senses. For a break from life, 2,500 sqm divided over 3 floors offer an infinite range of treatments.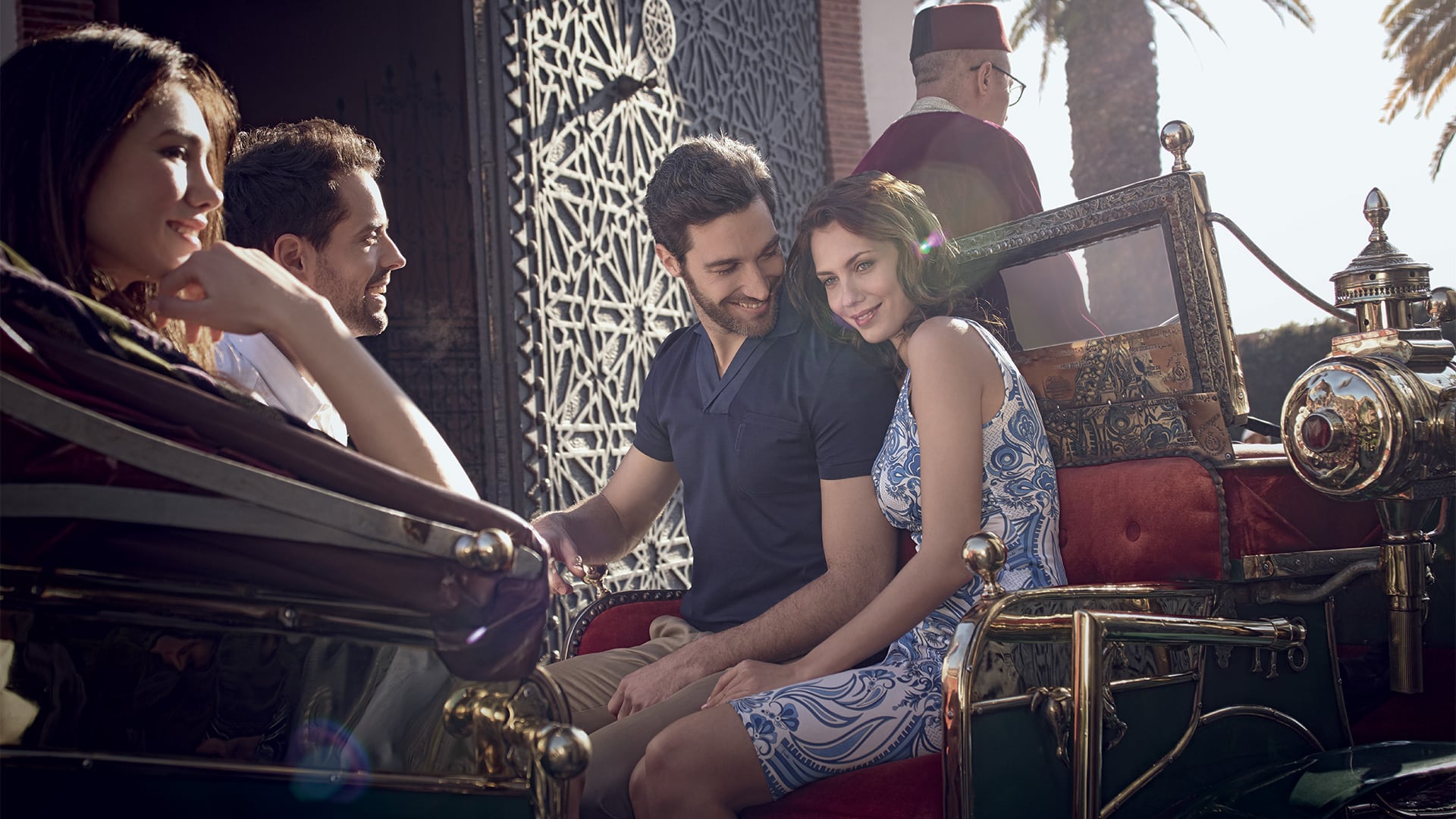 Alongside the emotions of an extraordinary hotel experience comes the pleasure of visiting Marrakech from a unique perspective. From must-do activities to exclusive gems, the Ochre City offers a thousand and one experiences.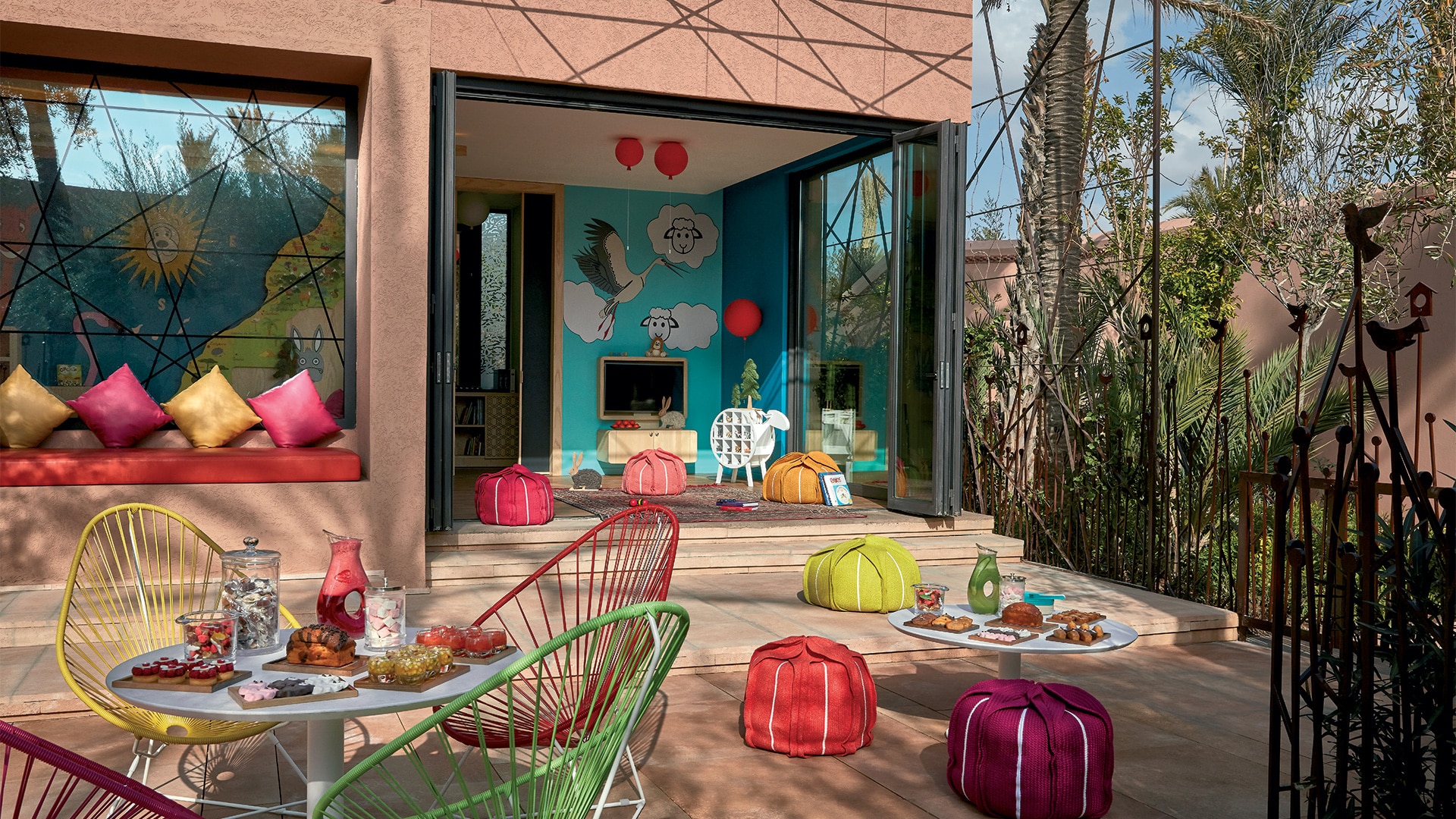 As we believe that discovering the world is an enriching experience, we have designed our kids' club, Le Jardin de Lila, as a unique opportunity to uncover the beauty of the Moroccan culture. A universe dedicated to 4 to 10 year-olds.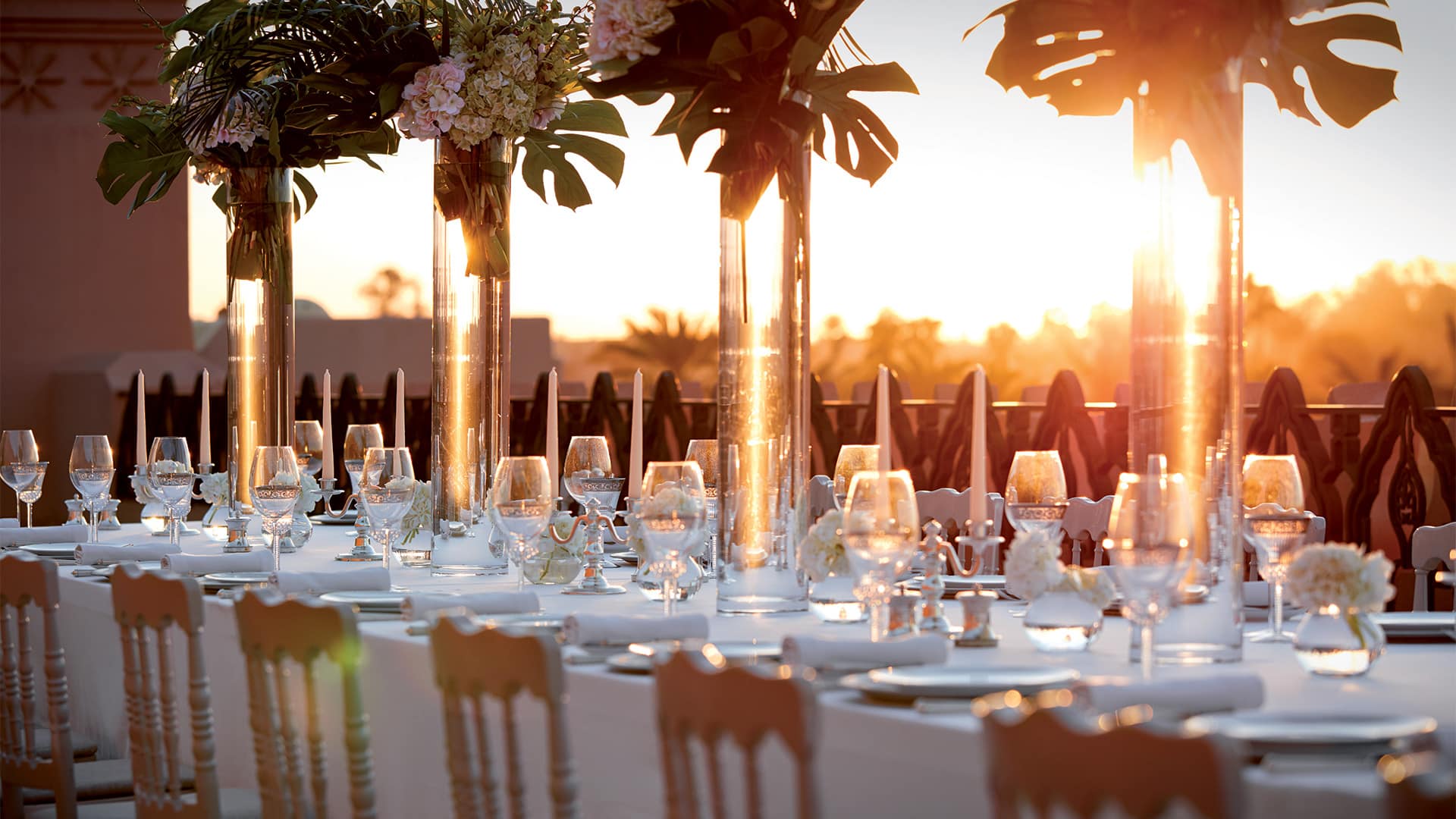 Receptions, weddings or business meetings: the Royal Mansour Marrakech organises tailor-made private and professional events. Its enchanting gardens, private lounges, unique riads and restaurants offer majestic and unforgettable settings.