The Red City is a destination of choice for a summer holiday with family or friends. At this time of the year, the sun shines and it's very hot. Fortunately, Marrakech is a city full of surprises and diversity. Visitors to this imperial city can discover and enjoy a wealth of activities without suffering from the mid-day heat. Here are some ideas for things to do in Marrakech this summer.
ENJOY A RELAXING POOL DAY
Marrakech may not be by the ocean, but it has undeniable advantages on sunny days. Indeed, can you imagine a more relaxing experience than a day at the Royal Mansour Marrakech swimming pool? Day-passes are available for non-residents and allow you to relax for a day by the poolside of the Royal Mansour Marrakech Garden.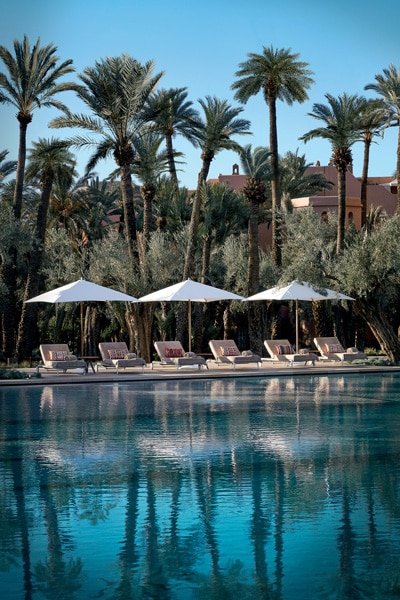 Everything has been carefully thought out to make this moment a special and magical one. Guests can stay cool under the hotel's shaded areas. A solarium awaits you for sunbathing after enjoying a dip in the pool which is 30 metres long and 20 metres wide. For more privacy, private pavilions can also be booked.
Refreshments and snacks are available throughout the day, which will certainly mark your stay in Marrakech this summer.
DISCOVER THE CULTURAL RICHNESS OF THE RED CITY
Marrakech is gaining a reputation as a cultural reference around the world. Many artists exhibit there. Several art galleries and museums welcome collectors, amateurs and curious visitors. These air-conditioned places let you discover all the creative excitement that animates the city.
Marrakech's cultural diversity is an example for many cities. Traditional Moroccan craftsmanship is alive and well. Contemporary art is expressed here. All these artistic trends are intertwined in harmony and make the Red City a hub of art and culture.
ENJOY A MOMENT OF RELAXATION IN THE HAMMAM OR SPA
Enjoying a black soap scrub or a treatment in a spa is an activity to be enjoyed in Marrakech this summer. It is a ritual rooted in Moroccan culture that is definitely worth discovering during your stay in the Red City. It brings you relaxation, peace and well-being – the ideal conditions to fully enjoy your holiday in Marrakech. You can then enjoy your sunny days in the imperial city of Marrakech feeling totally pampered.